Is Flood Damage an "Act of God"
or a Result of Bad Planning
and Shoddy Construction?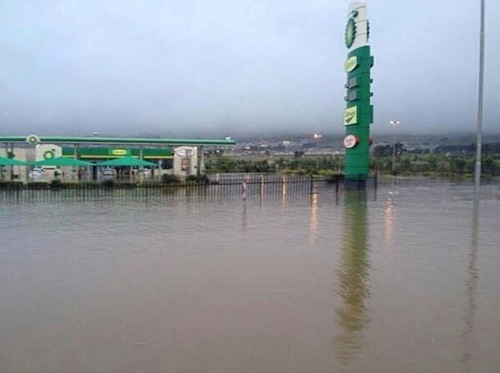 By Penny Swift, November 16,2013
As much of the greater Cape Town area and other parts of the Western Cape are still reeling after a night of flash flooding and continued rain, thousands of people are facing the unenviable task of trying to mop up and get their lives back on track. In spite of the fact that the City of Cape Town was already on high alert even before it began to drizzle, and they had warned Capetonians of the impending flash floods they were expecting, the City called an emergency Disaster Management meeting early this morning. And the National Sea Rescue Institute (NSRI) and the full spectrum of emergency services remained on high alert.
The headlines rolled out, drawing attention to immense and widespread flood damage:
Floods wreak havoc in W Cape

River bursts, floods hospital

Cape hospital evacuated after flash flood

Western Cape hit by flash floods

Rescue teams alert after Cape floods
Photographs of flooded roads, semi-submerged vehicles, and rockslides swamped Facebook and other social media. While the whole region has clearly been hard hit, it seems that Somerset West and Strand took a particularly bitter blow with many houses flooded, cars stranded underwater, residents rescued off roofs, and hundreds of people evacuated from various properties including an old age home, a hospital and a seaside residential caravan park. In addition, local animal welfare organization volunteers were asking for help rescuing animals in distress.
With all but one road into Somerset West closed, it was declared a disaster area.
My own home – primarily my office – was only a mini-disaster that was drained, mopped and dried within 24 hours. Others are not so lucky, including friends – one of whom was forced to evacuate her home and leave her water-filled car, and another who was forced to abandon her car in the flooded Bridgewater Road – as well as a seriously ill relative who was among the many patients transferred out of the dangerously flooded Vergelegen Mediclinic in the middle of last night.
But my question remains, is flood damage (and the dangers that go with it) simply an "act of God", or does the bad planning of humankind and subsequent all-too-often shoddy workmanship play a greater hand in the scheme of things?
Flood Damage is Inevitable But we Need to be Ready
While not all floods evolve with the kind of magnitude stories like Noah and his ark evoke, there is absolutely no disputing the fact that floods are inevitable, and with them the inevitability of the damage they bring.
In terms of building and construction work, this is why there is a general rule to never build below the 50-year flood-line. In the book Owner Building in South Africa Struik Lifestyle (2012), I warn:
"If the plot you wish to buy is in a valley or on a hillside, you need to consider certain factors. If a river of stream runs through the valley, you must ensure that the area on which you plan to build is situated above the 50-year flood-line. This is even more critical if your plot is adjacent to the river. The local authority will have a record of the area's flood-line history."
Yet people all over the planet persist on building, not only within the 50-year flood-line, but right next to rivers (and sometimes very close to big ones). It terms of human nature, this is probably because most people either don't know the dangers (or even know about) the 50-year flood-line, or they simply don't believe that something that is perceived to happen could in fact be a real threat.
In its general guidelines for Disaster Risk Management, Flooding published on its web site, the City of Cape Town draws attention to the fact that flood plains along rivers within its area of jurisdiction may have water levels that rise not only to the 50-year flood-line, but also to the 100-year flood-line, "creating a danger to those within those areas". While the 100-year-flood-line is only thought to be reached once in a century, when it does happen, the consequences will be dire – because nobody (much) cares or pays any attention to this possibility.
In its guidelines, the City also talks about "flash floods", explaining that they happen when "intense thunderstorms result in large quantities of rain into step or urban watersheds in a short period of time".
In another document posted on the Internet that appears to be a recent collaboration between the NSRI, Surf Lifesaving and the Inflatable Boat Organisation, the Somerset West Flood Disaster Action Plan is a largely pictorial assessment of the dangers of the Lourens River when it floods. It is of course this very river (incorrectly called the Lourensford River in numerous current media accounts) that caused the devastation suffered by Vergelegen Mediclinic and other nearby properties. But it doesn't look as if the high risk areas were correctly identified. Follow the link and look for yourself, cross referencing our Google Map below.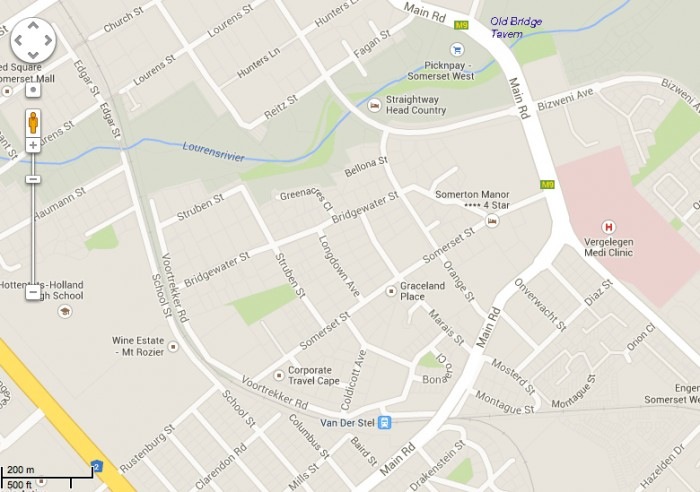 Similarly, while the City embarked on a major plan to widen the Lourens River a few years ago, in anticipation of a 50-year flood in 2013 or 2014 (in the area that winds past Pick 'n Pay, see map above), they were clearly unable to predict that the river would break its banks and change its course much higher upstream, and head straight towards the hospital in November 2013 … breaking its doors with the huge power of the water, turning corridors into surging water courses.
That's what seems to have happened.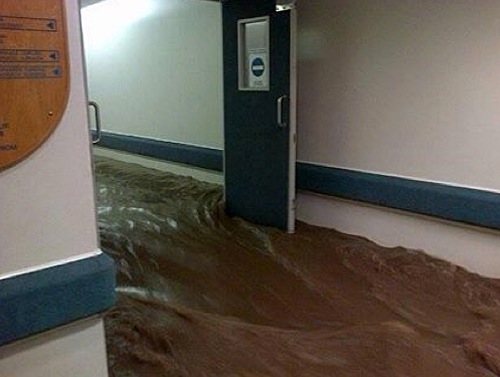 But there are still many questions that need to be answered, one of which is: Was this a 50-year flood? And another: If it wasn't, could even worse flooding be in the pipeline?
Cape Town and its surrounding areas – Somerset West being one of them – gets lots of rain, year in and year out. But less than three months ago, on August 28, 2013, the Lourens River broke its banks and smashed into the very same mediclinic. The force of the water wasn't as bad as it was yesterday, but it was bad enough for them to have to evacuate some patients and to close some parts of the hospital.
Clearly the City and emergency services can't predict what might happen in the future, looking forward, but something must be done. This kind of thing should not be allowed to happen again.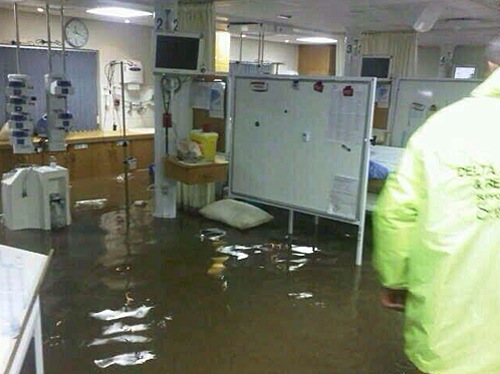 How Poor Construction Affects Leaking and Flooding
Apart from dramatic damage to property due to flash flooding, as the City's document points out, localized flooding is another danger. This will often occur inside buildings that have not been constructed correctly and that are not waterproofed properly. At very least, these building will leak!
South African National Standards (SANS) are more specific (SANS 10400 in particular) in terms of how to prevent leaking and internal flooding, giving guidelines that will ensure that all buildings are waterproofed from the foundations up to the roof. Of course it's not enough to assume that your building contractor will do this, or that when you buy an existing house that it has been done correctly, if at all. The fact of life is that in spite of all the bells and whistles put in place in our legislation, substandard building occurs all over the country.
When a surging river whacks into a building (like the Somerset West Mediclinic), there's not much that regular waterproofing is going to achieve. But if a huge storm whips up rain, hail, even the surging tide of water that municipal storm drainage can't handle, then your home (or hospital for that matter) should be able to withstand it.
On our this website, we get hundreds and hundreds of queries from home owners and tenants wanting advice, quite often about issues that relate to leaking roofs and stormwater drainage from neighboring properties. More often than not they raise very serious problems that occur with normal rain. Flash floods are not something they regularly contact us about; but in the event of flash flooding, these properties would be hard hit and certain to suffer major damage.
I've lived in many rented houses over the years that have sprung leaks. Most of these have been the result of "flat" roofs that have either not been correctly constructed, or that have not been well maintained.
My current home doesn't have a flat roof, though it does leak in places, and yesterday when my office was flooded, I discovered that this time, the fault was even more basic: no damp proofing course in the wall. After mopping water that had flooded through the garage, and stemming this, the water continued to flow – through the wall – and down the wall.
To make it worse, the water flowing down the road was damming, because the stormwater drainage system in this part of the town is totally inadequate.
To answer my own question: while floods may be an act of God, there's a whole lot that we can do to make sure that our homes and other buildings remain safe, and to ensure that we take good solid steps to minimize damage to buildings and dangers for people and animals.