Concrete Mixes & Batch Ratios
For Different Applications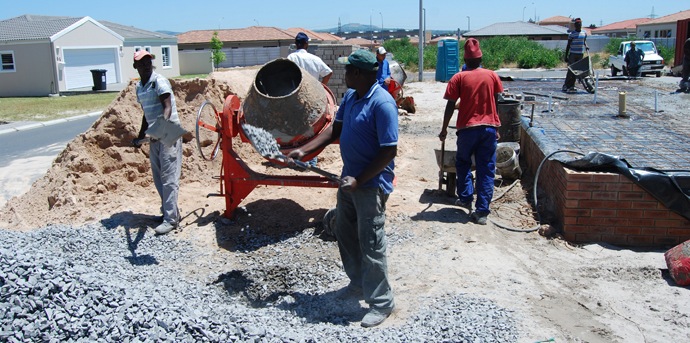 The basic techniques that will enable you to cast a foundation or slab are relatively straightforward. The secret to success lies largely in the correct quantities being mixed together in the concrete mixes you use. Although the principles of mixing concrete  and mortar are simple, this can be backbreaking work, especially if you decide to mix the concrete by hand yourself. If there is a reasonably large quantity of concrete to be used, it is advisable to hire a concrete mixer. Whether you are mixing by hand or in a concrete mixer, you will have to measure materials accurately to ensure you achieve concrete of consistent quality.
Batching Generally, materials for smaller jobs are batched by volume. Recommended ratios will enable you to mix concrete to match the function for which it is intended, or the strength of the concrete required.
One 50 kg sack of cement has a volume of 33 litres (0,033 cu m). A builders' wheelbarrow, filled level to the top, has a volume of 65 litres (0.065 cu m, which is almost double the volume of a sack). When batching by volume, it is safe to assume that one wheelbarrow-load is equivalent to two sacks of cement. Since sand bulks in volume when it is damp, the mix ratio table (below) is based on the use of damp bulked sand. If you are measuring dry sand, reduce the quantity of each batch by 20–25 percent. You will also need to add more water to compensate for the lack of water in the sand. The recommended ratios are based on the use of either 19 mm or 13,2 mm commercial crushed concrete stone. Stone does not bulk in volume when it gets wet and so no correction is necessary.
Large Batches of Concrete Mixes
15 Mpa This is a low-strength concrete mix and is suitable for house foundations that are not reinforced, and for boundary walls and freestanding retaining walls.

25 Mpa This is a medium strength concrete and is suitable for reinforced foundations, light-duty house floors, patio slabs, footpaths, steps, driveways and garage floors.

30 Mpa This is a high strength concrete and is suitable for suspended structural beams, pre-cast beams and flagstones, heavy-duty workshop floors and suspended reinforced floors.

Small Batches of Concrete Mixes
You can use containers such as buckets, drums or tins. It is important that the same size container is used for all materials in a batch.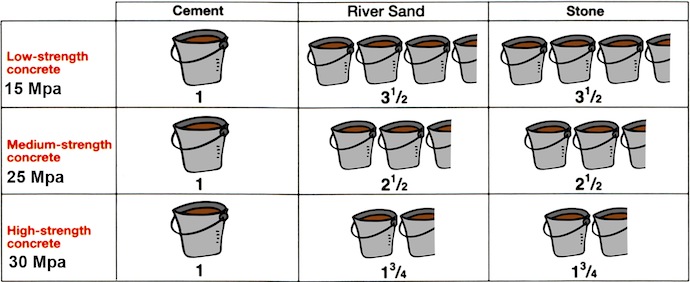 Moving and placing the concrete
Time limits
The time that elapses between the start of mixing a batch and when that batch is placed and compacted should ideally not exceed 45 minutes. If concrete is not placed immediately after batching, cover it with plastic sheets or wet sacking so that it does not dry out in the sun or wind. Concrete not placed and compacted within this time, or which has stiffened to a degree that its workability (consistency) cannot be restored fully by turning it over a couple of times with spades, should be discarded. This is because the hydration process would be in an advanced stage and retempering of the concrete will weaken it.
Moving the concrete
The concrete can be moved in buckets or wheelbarrows. If it is jolted too much, the stone will settle at the bottom. If this happens, remix the concrete before placing it. Do not let the concrete stand so long that it stiffens before it is placed.
The concrete mix should be used within a maximum of two hours of being mixed and must never be retempered by mixing in additional water, as this reduces the resultant strength of the mix.
Concrete Mixer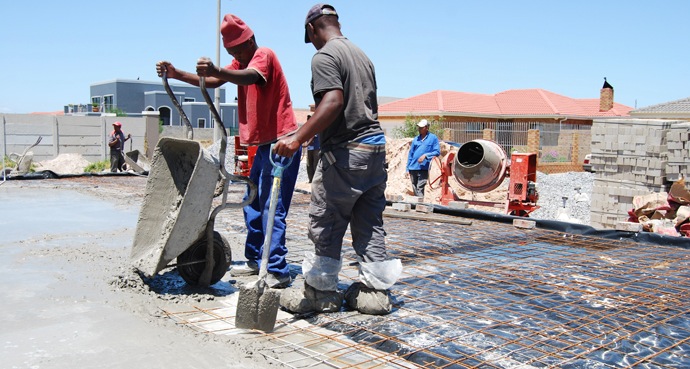 Ready-Mixed Concrete
If you have large quantities of concrete to place, it is much more convenient to order it ready mixed. It is then mixed in a factory environment, according to your specifications. You must just ensure that workers are on site to place the concrete as soon as it is poured from the truck.