How to Plan Your Bathroom the Right Way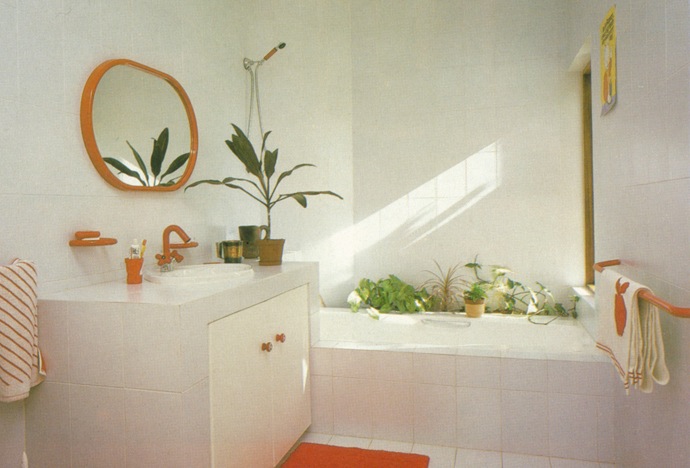 Whether it is a guest cloakroom, a luxurious en suite arrangement or a streamlined family bathroom, the design of any bathroom should evolve out of the specific needs of the people who use the room.
The bathroom has come a long way in the last 100 years. Progress in the field of sanitary engineering has taken place at an astonishing rate: those few who remember the days when a private bathroom was a rare and expensive privilege will concede that there are few modern conveniences to rival efficient modern sanitation and plumbing.
Considering Function
The main reason for including a bathroom in a home is to provide a separate and distinct place in which to wash This definition has not changed through the ages, although the tremendous potential of the bathroom has definitely been exploited more thoroughly in certain eras than in others. During the first part of this century, for example, bathrooms were planned as evil necessities, with economy and not comfort in mind, the justification being that these were rooms which were not used all that often and were therefore not worth spending money on. The Romans, on the other hand, regarded bathing as a deliciously sensual and highly sociable activity, and their splendid communal baths were designed accordingly, offering facilities for steaming, massage cleaning and icy plunges. In recent decades, there seems to have been a change of attitude towards this oft-neglected room with an increasing number of home owners opting for bathrooms which are more than mere 'wash rooms', and which are designed to accommodate other activities as well.
The style, shape and size of a new bathroom will be determined to a large extent by the purposes it will serve and, of course, by practical considerations. The simplest bathroom consists of a basin and a shower or bath. Most incorporate a toilet as well, although many people prefer to house this in a separate room. Hereafter, the possibilities are endless and the bathroom can include anything its owner desires Optional (and expensive) extras such as spa baths, vanity units and bidets are becoming more and more common in some parts of the world.
Planning a Bathroom
Generally speaking, bathrooms tend to be redecorated or remodelled far less often than other rooms. The most obvious explanation for this is that any significant change to a bathroom invariably involves expensive alterations to plumbing; a definite deterrent to homeowners with limited budgets. Unlike the furniture in a living room or bedroom, the major elements of a bathroom are usually built in and cannot be reshuffled or redecorated at the drop of a hat. For this reason any bathroom deserves to be planned with great care and imagination: a good few years will have passed before you are likely to consider altering the room again.
Whether you are designing a bathroom from scratch or simply planning to remodel an existing bathroom, it is wise to take a little extra time to consider your family's needs and preferences before any work begins. It is also a good idea to try and assess possible future requirements. A bathroom that is flexible, versatile and classic in design will provide years of enjoyment and trouble-free use.
Ask yourself these questions at the outset:
What is the ideal? Try to establish how many baths, showers, toilets and basins your family actually requires. If your main aim is to alleviate a traffic jam in the mornings, ask yourself whether a completely new bathroom is really necessary. A second basin or separate toilet will not only cost less, but will also go a long way towards improving the efficiency of the overworked bathroom.
Do you want more than one bathroom? If you intend to build a completely new room, consider whether it is essential to duplicate every single item in the existing bathroom. Do you need two baths? How often will they be used simultaneously? Your ultimate aim is to tailor the available space to your needs, so try and pinpoint the purposes the room will serve. In which areas does the existing arrangement fall short?
Do you want a multifunctional bathroom? Do you want your bathroom to be no more than a place in which to wash, or do you envisage a multi-functional room? A bathroom can be used for a multitude of purposes changing a baby, dressing, applying make-up, exercise, laundry, or even as a change room for a swimming pool. Is there any one member of the family who has particular requirements?
Who will use the bathroom? This is an important consideration. A bathroom used exclusively by two adults may have luxurious finishes and fittings, such as a carpeted floor, adjustable shower jets, a heated towel rail, expensive imported tiles or a bidet, which would be unnecessary in a children's bathroom or a guest cloakroom.
A room which is used by many people is generally subjected to a great deal of wear and tear and therefore needs durable, easy-to-clean fixtures and finishes. If the bathroom contains the only toilet in the house, guests may be forced to queue until a family member is finished bathing or showering so it might be worthwhile considering a separate or additional toilet.
Various types of bathrooms have emerged over the years, especially since second or even third bathrooms began to make an appearance in modern homes.
Although these are by no means rigid classifications, they nonetheless illustrate how bathrooms have evolved in response to the specific needs of the people who use them: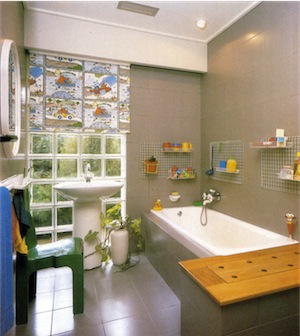 The Family Bathroom is usually the only bathroom in the house, it should be adaptable and versatile, not only in the arrangement of its fixtures and fittings, but also in its decor. Being a room that is used simultaneously by more than one person, the family bathroom should ideally have a separate shower and bath, with the toilet ought to be housed in another room, or at least screened from the main part of the room in some way.
The En Suite Bathroom is a comparatively modern concept, but one that is becoming increasingly popular. It tends to be used exclusively by one or two people, and offers a degree of privacy not often found in communal or family bathrooms.
The Guest Cloakroom usually comprising a toilet and small basin, takes the pressure off the main bathroom at peak hours and ensures that guests do not have to invade the private areas of the house. A steam-free room like this can include luxury finishes such as carpeting or wallpaper.
The Children's Bathroom is designed to cater for little people. It features safe, non-slip finishes and fixtures that are simple to use and easy to reach.
Special-Purpose Bathrooms cater for the elderly or disabled, incorporating features such as grab rails, hand-showers, non-slip materials and easily accessible fittings.
Whatever you choose, just make sure that you plan your bathroom so that it meets your needs and the needs of your family.
>
>