Building Regulations that Apply to Floors-Part J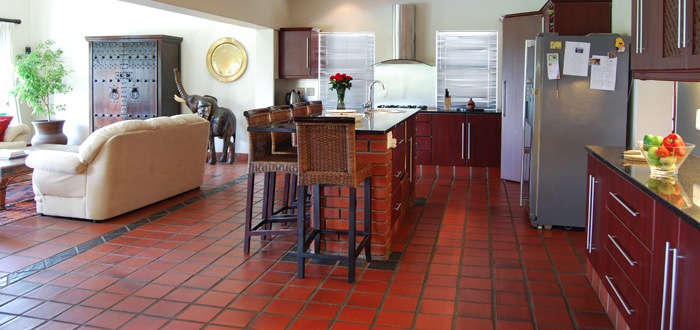 The Application of the National Building Regulations that apply to floors (Part J of SANS 10400) are certainly not exhaustive. In fact, if you think of how much of our house is floor, it's what we might, in South Africa, describe as a biekie min. But the authorities have, at least, increased this part of the document from a single page to nine pages (although these include a page of references to other SANS that need to be taken into account, and more than a page of definitions) plus a cover page, a Foreword, Contents page, an Annex that gives the official, legal Regulations (see below), a one-line Bibliography – on a full page, a couple of blank pages and some info about the SABS Standards Division.
Changes to the Law
Like all the other parts of SANS 10400, Part J, Floors, has two sections. One section covers the Regulations (the National Building Regulations and Building Standards Act, 1977 and all its amendments) and the other covers how they should be applied (previously what fell under the "deemed-to-satisfy" rules).
In terms of the Regulations (the law), there is one substantial change to the first general requirement that previously stated that any floor of a building must simply "be strong enough to safely supports its own weight and any loads to which it is likely to be subjected". It now states that "any floor of any building shall be designed and constructed to safely support its owns weight and any actions which can reasonably be expected to occur and in such a manner that any local damage (including cracking), deformation or vibration do not compromise the efficient use of the building or the functioning of equipment supported by such a floor".
>
In addition (and this hasn't changed):
Floors must be fire resistant and where necessary, non-combustible.
Floors of laundries, kitchens, shower-rooms, bathrooms and toilets (hooray, they are no longer referred to as WCs!) and urinals must be water resistant.
Timber floors must have adequate under-floor ventilation.
Concrete floors supported on ground or filling must be constructed in such a way that moisture will not penetrate the floor slab.
As always, the Regulations state that these requirements will be "deemed to be satisfied" if the design and construction of the floor complies with this part of SANS 10400. However, if the local authority deems it necessary, certain other requirements may be needed. For instance the local authority may demand that the entire area within the foundation walls of any building be covered by a suitable damp-proof membrane, and in the case of a basement, or semi-basement, they may require adequate sub-soil drains to be provided under the floor to drain and therefore remove any water that accumulates.
Interestingly, the Regulations now define the word "adequate" in this context:
a) in the opinion of any local authority
b) in relation to any document issued by the council, in the opinion of the council
So if you're not sure of anything that relates to floors and flooring, approach your local authority for guidance. They are obliged to help you.
Application of the National Building Regulations
as they Apply to Floors
In addition to a number of SANS that relate to building materials including boards, timber, concrete and fire testing of materials, the SANS states that Parts A (general principles), B (structural design), H (foundations), T (fire protection) and V (space heating) of SANS 10400 must also be taken into account when constructing floors.
The Application of the Regulations relate to:
floors in wet areas as specified in the Act (that must be water resistant)

suspended timber floors that are not exposed to the elements
floors and slabs supported on the ground
all timber used for building
There are some useful drawings that show how suspended timber floors should be built.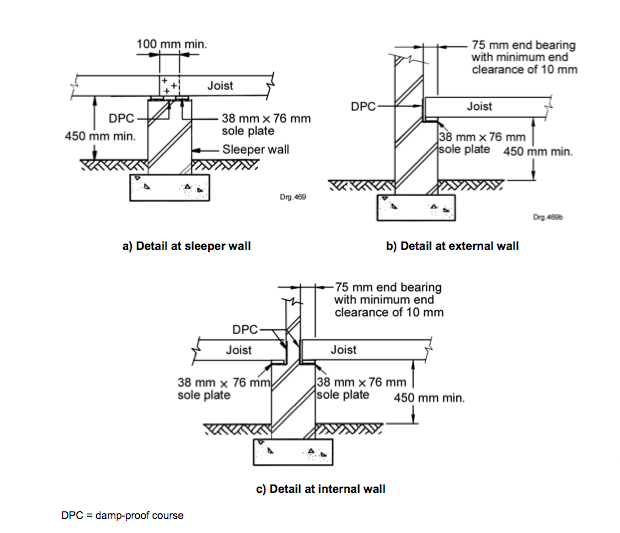 There are also specifications for maximum spans of floor joists:
for those made with sawn SA pine for single- and double-storey houses
for those made with laminated SA pine, Grade 5 or higher, also for single- and double-storey houses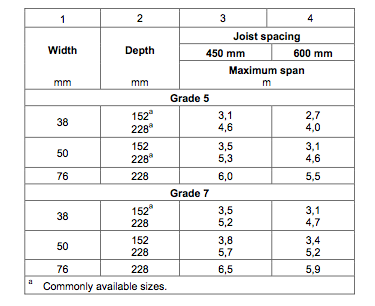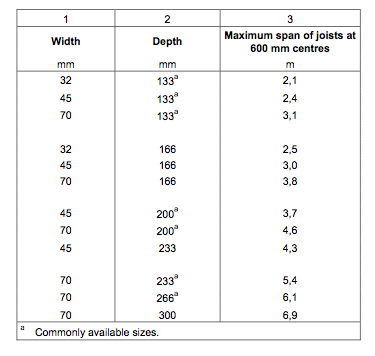 Additional floor specifications relate to:
Flooring boards that must comply with SANS 629 and amongst other things should have a face-side width of at least 50 mm and not more than 140 mm, and tongued on one edge and grooved on the other, with square-sqwn or end-matched ends; and have tongues and grooves that produce a tight-sliding fit, and a flush joint on the face-side of the boards.

Strip flooring that amongst other things should have a width between 35 mm and 90 mm and a nominal length  of at least 460 mm (and tongues and grooves as above).
Particle board that should comply with SANS 50312 and SANS 1931.
Composite and plywood that should comply with SANS 929.
Additional guidelines relating to suspended wooden floors relate to the clearance between the joints and ground; ventilation; metal masonry anchors to be used and so on.
There are also a number of guidelines given for floors that are supported on ground or filling, but it is also stated that this type of floor should be designed and constructed in accordance with the requirements of SANS 10109-1 under the direction of a competent person (civil engineering) unless the building is to be used for storage or industrial purposes, in which case different guidelines are given.
This section also gives guidelines for underfloor membranes and filling beneath floors. Apart from anything else, a competent person (civil engineering) "shall design and inspect fills where the maximum height of fill beneath floors, measured at any point, exceeds 400 mm".
So even if you go the DIY route, you're going to need professional assistance.
>