The Implications of Building Retaining Walls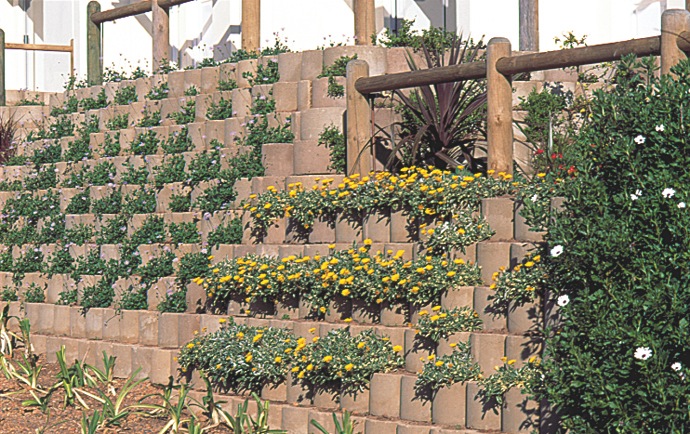 Part K of SANS 10400, Walls in the National Building Regulations (NBR) covers the structural strength and stability of all walls, including those that form part of a house or other building, and both garden and boundary walls.
They also deal with retaining walls which, by definition are intended to "resist the lateral displacement of materials". If the wall is not designed the right way, it simply won't resist the pressure of soil or other materials pushing against it, and it might collapse injuring or even killing people. It is for this reason that it is essential for all retaining walls to be designed by a competent person, preferably an engineer, and for plans to be drawn up and submitted to the relevant local authority for approval before building begins.
Over the years we've had numerous queries from visitors to this site regarding retaining walls, many homeowners wanting to know whether plans are required. The only walls you may be build without plans are those that are considered, by the National Building Regulations to be minor building work. Specifically, Part A of SANS 10400, General Principles and Requirements says "any free-standing wall constructed of masonry, concrete, steel, aluminium or timber or any wire fence where such wall or fence does not exceed 1,8 m in height at any point above ground level and does not retain soil," is regarded as minor building work. Even though plans are not required for minor building work, it is essential that minor building work complies with the NBR, and you should notify the local authority of your intention to build the wall.
All retaining walls require plans that are approved, and they must be designed by a competent person or build it in accordance with the SABS "deemed to satisfy" rules that are laid out in Part K 4.2.4 Free-standing boundary, garden and retaining walls.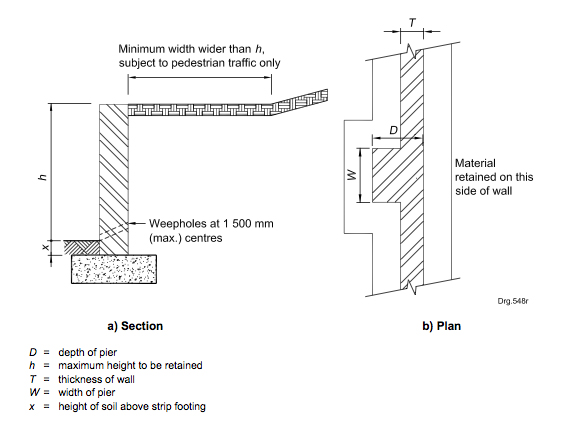 Freestanding retaining walls must be designed and built so that:
the height of any fill retained by the wall does not exceed the values given in he table below, provided, however, that where

x

(see figure above) exceeds 0,3 m, the height retained shall be reduced by the difference between

x

and 0,3 m
piers, where required in terms of the table below, project on the opposite side of the wall to the fill that is being retained
control joints are located at intervals that do not exceed 10 m
no surcharge of fill is placed within a distance equal to the height of the amount of fill being retained, and
subsoil drainage is provided behind the wall by weepholes formed by building into the waIl, and 50 mm diameter plastic pipes, with the non-exposed end covered with geofabric, at a height that does not exceed 300 mm above the lower ground level, and at centres that do not exceed 1,5 m.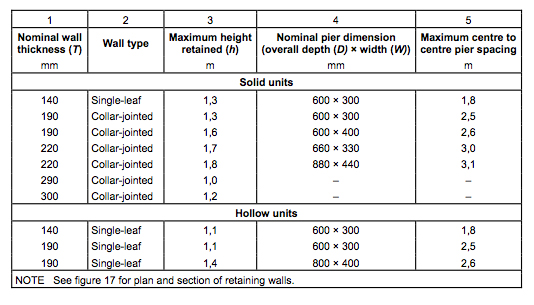 Note that the specifications for garden walls that do not retain earth are different.
"The term 'minor building work' was intended to cover certain building work which, because of either its nature or magnitude (or both), was such that it would not be necessary to submit full plans or, in certain cases, where no plans or any other documents would be required." South African National Building Regulations
What Happens When Retaining Walls are not Built in Accordance With the Building Regulations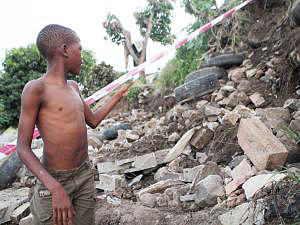 Incorrectly built retaining walls can be downright dangerous. Just a couple of months ago an adult and six children were injured when a retaining walls collapsed on them in Quarry Heights, Durban. At the time, the children and several adults were helping Busisiwe Shabane backfill a retaining wall with sand and rubble to create an area that was level with her house. Two of the children were trapped under the wall.
According to Shanbane's husband, Caphius, they were trying to strengthen the wall which appeared to be about to collapse. He said they were afraid that if the wall collapsed, the house would then collapse. He said they had used tyres, but these had been dislodged by heavy rain. They had also built two retaining walls using hollow cement blocks. When these began to crack and show signs of falling, they broke one down and rebuilt it.
The wall was apparently six blocks high, which would have made the wall about 1,2 m high. Clearly it was not built according to the NBR, and there were certainly no approved plans. Thankfully no-one was killed, but two weeks ago 18 people died and three were injured when a retaining wall collapsed on a shack in China's Shandong Province. This collapse was also caused by heavy rain.
Properly Built Retaining Walls
Although to the layperson low retaining walls might appear to be simple structures, the risks of badly built walls are acknowledged by engineers. When an engineer designs a retaining wall he or she will evaluate the soil and any rocks that are behind or below where the wall is to be built. They will also determine the best material for backfilling the wall and design drainage so that rain does not cause collapse.