Electric Cables – What is Legal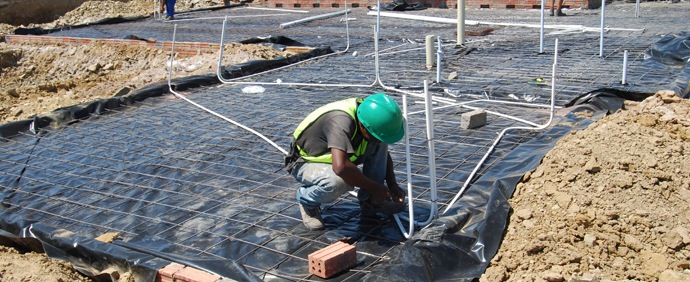 We get a lot of questions about which electric cables are legal and how they must be installed. So here is a brief rundown of the different types of legal cabling available and the way an installation could be done. There are various accepted methods and we illustrate a general one here. When a builder has to wire a home, he will first lay conduits, which are plastic or metal pipes fixed in place above the plastic damp-proof underlay and the steel reinforcing.  (See the picture above.)
These pipes are layed out according to the house plans and extend upwards from the floor, and will be built into the walls later when the bricklayers start their work. The concrete for the floors will then be placed, and the conduiting will run within the floor slab. From there they can be chased, or cut, into the walls so that they can be routed to various outlet points where plug points and lights are required. The electrician will later pull the wires through these tubes. There are classes of cable that do not need to be encased in conduit and can be chased into, and laid directly under the plaster. Two examples of these are Surfix and Flat-Twin-and-Earth cables. A full specification can be found in the Aberdare brochure below. When the roof is on and waterproof the cables can also be layed in the roof space for overhead lighting and other fittings.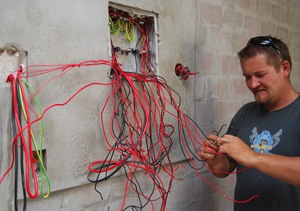 Be Guided by What the Law Says about Electricicty and Electric Cables
By law a fully qualified and registered electrician must be  responsible for the wiring. It is a good idea for all homeowners to familiarise themselves with, and be able to identify, different types of cable and flex to ensure that all materials used in the installation are up to standard (literally – they need to meet the relevant South African National Standard).The National Building Regulations and Building Standards Act does not cover electricity and nor does SANS 10400. Electricians must comply with SANS 10142: The Wiring of Premises.
Depending on the class of cable the non-conductive insulation material around the wires inside cables and flex are different colours to make it easy to identify them. Green, or green and yellow, is the earth; live wires are brown or red; and neutral is either light blue or black. Once the wiring in a building is complete the entire system must be checked by an accredited person (from Eskom or the municipality/ local authority) who will issue a certificate of compliance.
Aberdare Cables have an excellent brochure (see below) that should help to identify the various cables associated with the electrical installation in a house.
[gview file="http://sans10400.co.za/wp-content/uploads/2013/04/AberdareHouseWires_640.pdf" height="900px" width="680px" save="1″]
[Note that we have no affiliation with this company and reference to their brochure does not imply any particular recommendation.]