Glazing and the Glass You Use for It-Part N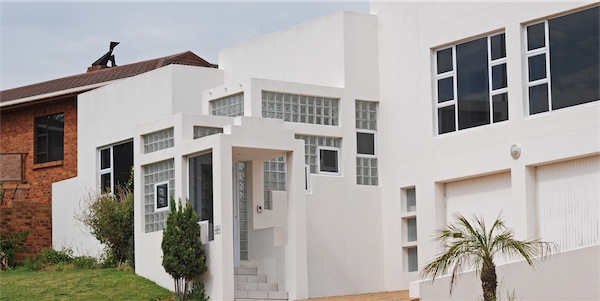 Part N is the section on glazing in the National Building Regulations & Building Standards Act and is short and reasonably sweet.
Essentially you need to be sure that any material used for glazing in buildings is secure and durable and that it is fixed so that it:
safely sustains wind actions that one would normally expect wherever you live in South Africa (but not necessarily major hurricanes or tornadoes that might be experienced in other parts of the world),
does not allow water to penetrate the interior of the building, and
is obvious to anyone who approaches it (if it isn't, people could walk right into the glass and be injured, particularly if it is completely transparent and not made of "safety glass").
Of course it isn't only glass that we use for glazing. There are also a number of plastic and polycarbonate materials, as well as organically-coated glass, which can be used.
When it comes to choosing the best type of glazing for the job, the essential aspect is to make sure that if someone (or an animal) does impact the glazing – or collide with it, they won't be seriously hurt. Factors to take into account include:
the position of the glazing,
the number of people who are likely to be able to access the glazed door or window, and
the probably behaviour patterns of anyone (or anything) that is likely to get close to the glazed area.
And ultimately, as long as the glazing material is selected, fixed and marked in accordance with SABS 10400-N, all should be well and legal… and safe for all concerned.
NBR Changes that Relate to Glazing
The "new" National Building Regulations are a lot more specific in terms of glazing installations than they were previously. Not only is the maximum pane area and glass thickness specified, but so too are the different types of glass. These are:
monolithic annealed glass,
patterned annealed and wired glass,
laminated annealed safety glass,
toughened safety glass.
In addition to this, glass must also comply with the relevant SANS, as must the method of fitting the glass or alternative material used for glazing.
Just be aware that whether you are glazing doors, windows, shower cubicles, shop-fronts or anything else, glazing MUST comply with SANS 10400-N as well as other standards that relate to the manufacture of glazing materials.
Construction Standards of Glazing
The SABS also has a strategic policy that relates to glazing in buildings. The reason for this is to standardize glazing in buildings in terms of:
terminology (so that we all understand exactly what the regulations mean and relate to),
performance requirements,
various methods of calculation,
design and construction guidelines,
the classification and specification of materials (including dimensional properties).
To this end, the SABS has a sub-committee that specifically develops, maintains and co-ordinates standards in the field of glazing materials that are used in buildings. The committee's responsibility is to:
develop national standards,
participate in the development of standards (getting votes, comment and so on),
develop and review the programme of work,
recommend what else needs to be done to ensure that the South African standards stay on track with international standards.
At the end of the day, the safety of users and installers is paramount.
Here is a drawing from the Standard that provides guidance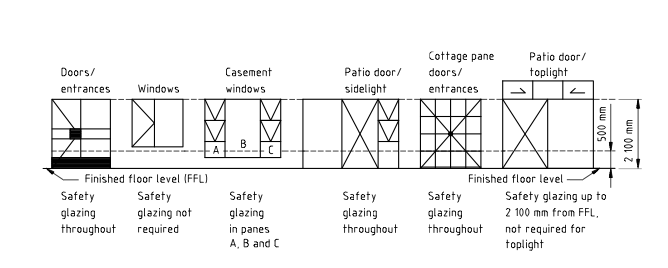 >