Chimneys, Flues, Hearths and Fireplaces
Used for Space Heating-Part V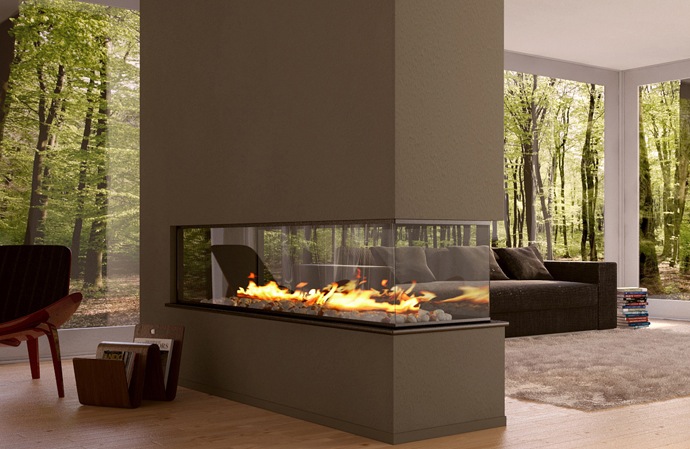 Anyone searching through the National Building Regulations for information about chimneys and flues, hearths and fireplaces, might go straight to the part that deals with Fire Protection. The next step would probably to look through the part that deals with Walls – after all chimneys are often built with bricks and mortar and often extend from a wall. Or Roofs might seem to be a good place to look.
But no, you are not going to find the information you are looking for in any of these three sections of the NBR. The information you need is in Part V of the Act. This section is very short, and deals only with the design, construction and installation of fireplaces and hearths that have chimneys and/or flues.
The legislation states:
"(1)  Any system of space heating in any building shall be so designed, constructed and installed as to operate safely and any flue, flue pipe or chimney used in such system shall be so designed as to safely remove any smoke or noxious gases produced by such system.
"(2)  The requirements of sub-regulation (1) shall be deemed to be satisfied where the design and construction of any flue pipe, chimney, hearth or fireplace complies with SANS 10400-V." That's it.
SANS 10400-V: Space Heating
As with all the Standards that make up SANS 10400, if you ensure that your installations comply with the SANS it will be "deemed to satisfy" the law. But other Standards are often cross-referenced. This Part of SANS 10400 makes reference to:
SANS 10177-5, Fire testing of materials, components and elements used in buildings –– Part 5: Non- combustibility at 750 °C of building materials.
SANS 10400-A, The application of the National Building Regulations –– Part A: General principles and requirements.
SANS 10400-B, The application of the National Building Regulations –– Part B: Structural design.
Like all the published SANS, it has a list of useful definitions, some of which you will find in our Glossary of Terms.
Examples include:
chimney That part of a building which forms part of a flue, but does not include a flue pipe

flue Passage which conveys the discharge of a heat-generating appliance to the external air
flue pipe Pipe forming a flue, but does not include a pipe built as a lining into a chimney
Hearth and fireplace are not defined!
Chimneys
Chimneys must be designed and erected from materials that are non-combustible – which of course stands to reason. It is also important that they don't become a fire hazard, particularly to those materials adjacent to the chimney structure. Further, chimneys should not reinstalled in shafts or ducts that might be affected by heat.
Timber is one of the combustible materials that we commonly use in our homes, and the regulation states that elements including joists for timber floors, trimmers or roof trusses may not be built within 200 mm of the inside of any chimney.
There are additional regs that relate to dimensions, for instance where the walls of a brick or block chimney are less than 190 mm-thick, it must be lined with a flue lining that is made of a material that will withstand the action of any flue gases and won't crack or soften. The flue lining must also extend throughout the full height of the chimney.
There are also regulations that relate to the height of the outlet – this has not changed since the regulations were published previously in 1990 (and of course you can download these free). Below you can see the chimney positions.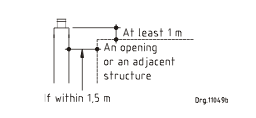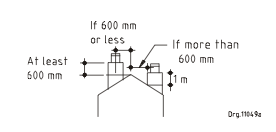 Flue Pipes
This is all largely common sense. Flue pipes may not be designed or installed if they are going to become a fire hazard to adjacent material. They may also not be connected to shafts or ducts that form part of any ventilation system. And they may not be installed in shafts or ducts that are likely to be adversely affected by heat.
Hearths and Fireplaces
Any fireplace that is used for burning "solid fuel" MUST have a hearth that is make of a non-combustible material that is sufficiently thick. It must extend no less than 500 mm in front of the grate or fire basket and not less than 300 mm beyond each side of the grate or fire basket.
Timber floor joists and trimmers – or any other combustible material – may be built into a hearth.
>