How to Change a Tap Mixer Cartridge, Step-by-Step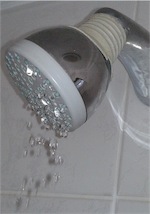 Tap mixer cartridges have changed the way home handymen tackle the task of fixing leaking taps and shower heads. The days of fixing a leaking tap by changing a simple washer are fast fading as more and more new mixer designs are manufactured. This is because of new technology that has been invented to ensure your hot and cold water is properly balanced and won't scald you or burst out in a sudden splash of icy water.
Tap mixers are found in all utility rooms of the house today, from kitchens and bathrooms to small shower rooms and laundries; wherever you have a shower, basin or bidet, chances are there will be a tap mixer.
Some of the well-known brands available are HansGrohe, Franke, Tivoli, Cobra and Isca, to name but a few. These companies all produce mixers that use a cartridge rather than your classic tap washer. If you are not sure of what model or make your tap mixer is then do what I did, I took a picture with my mobile phone and showed it to the guy at the plumbing supplies shop. Hey Presto! He knew immediately the make and model and gave me the correct cartridge.
>
To replace the old tap mixer cartridge with a new one is fairly simple;
just follow the steps shown here:
Step-by-Step Instructions to Change a Tap Mixer Cartridge

1. This is a standard shower tap mixer that uses a cartridge rather than a tap washer.
2. All you will need to do the job: a small to medium size screwdriver and of course the new replacement part. Make sure it is the right make and model for your tap mixer before you start as there are some variations between the different types.
3. It is most IMPORTANT that the first thing that do is shut off the mains water supply to your house. Mine is located under an upturned planter near the front gate.

4. This tap or faucet is outside in all weather and is usually only used in emergencies, so it may be a bit tight to turn off, Make sure it is properly turned off before you start work.
5. Now go to your tap mixer. You will find a small cap located underneath it. This is usually ceramic but may be plastic. The one pictured here is coloured red and blue.
6. Use your screwdriver to prise/lever the cap out. It won't be difficult as it is only clipped in.

7. Inside the hole you will find a retaining screw. Loosen this until it turns freely. There is no need to take it out completely.
8. Now the handle should be free and you will be able to slide it off the cartridge pin. This might take a bit of effort as the square pin that goes into the handle can be a bit tight.
9. Next unscrew the metal housing that covers the retaining bush.

10. Most bushes today are made of plastic, so they should be fairly easy to remove.
11. All you have to do now is to slide out the old one and put the new one back in it's place. Then just follow these steps in reverse order, and you are done.
12. This is a shot of all the components and parts, old and new that I used to replace the tap mixer cartridge in our shower.
So next time your tap mixer drips or leaks, don't call in a plumber, DO IT YOURSELF!
>