Creative Home Design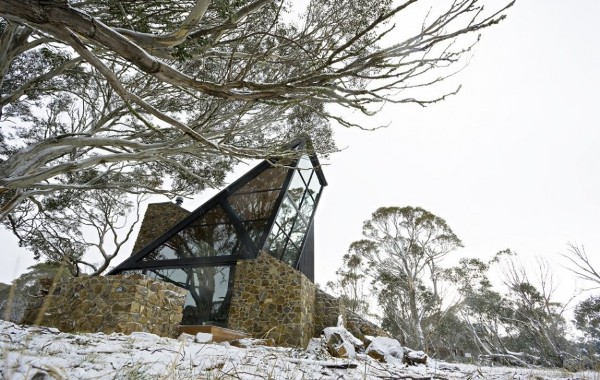 This imposing house was designed by well-known international architect Giovanni D'Ambrosio and is set in the popular winter skiing region of Australian in the State of Victoria's mountain countryside near Mount Hotham. To integrate the house with its surroundings the architect has used organic materials. Wood, stone, metal and glass are all combined together in the structure, construction and in the finishes. The smallish site is only 370 square meters with the house having a total floor area of 270 square meters. Construction was started in 2005 and was completed two years later in 2007.
The shape of the house is designed to get the maximum benefit from all the seasons. Dubbed "Under The Moonlight" it allows the owners to be comfortable during both summer as well as winter. Appreciation of the environment was paramount in the design and large pane glazing allows for viewing of the surrounding vistas from all rooms. To quote the architect; "This is the idea [that] I wanted to base the project upon: treat interior and external spaces as if they were the same." He has divided the house into two levels; firstly the ground level where everyday living takes place where you have views of the exterior and gardens through large glazed panels that lead out onto an entertaining deck. The second level has the bedrooms, the main master bedroom with an en suite bathroom and spa as well as another two separate bedrooms. Under cover parking has been built in so as to shelter the owners and visitors from the winter rain and snow. The architect also states that care was taken during construction so as to have as little impact on the local environment as possible.