Even at Home Public Safety is Paramount-Part D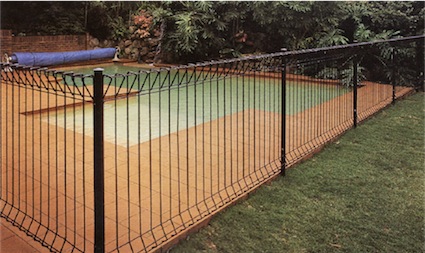 All home owners have a responsibility to people who visit their homes, or members of the public who are able to access their homes.
According to the National Building Regulations we must be concerned specifically with:
changes in level,
pedestrian entrances to parking area in all buildings,
ramps and driveways,
swimming pools.
Change in Level
If people can access a level other than ground level on your property, you need to be absolutely certain that they are not likely to fall off. Areas of special concern include balconies, flat roofs and in fact anywhere that is more than one metre above another level.
The most common form of protection in these circumstances will be balustrades, parapet walls, and some sort of handrail.
Pedestrian Entrances
Here the main concern is that people walking to their cars, bikes or whatever form of vehicle they are driving or being transported in can do so safely.
This is generally more of a problem for public buildings rather than private homes. However if there is any possible danger that someone might unintentionally walk in the path of a moving vehicle, make sure there is some sort of warning sign and lighting at night.
Ramps
The building regulations state that any ramp or driveway must be designed in such a way that it is "safe when used and is fit for the purpose for which it is intended".
Concern here is more for semi-public buildings or places where groups of people are accommodated. However the guidelines suggested in the SANS are relevant for properties where there are two or more dwellings, as well as for other buildings where people live or stay:
ramps and driveways used by cars and similar vehicles should have a gradient of no more than 1:25 within a distance of 5 m from street boundaries the driveway crosses,
those used by pedestrians may be considerably steeper than this: a maximum gradient  of 1:8 is permitted,
if ramps and driveways are going to be used by pedestrians and vehicles, there should be a walkway that is at least 1,2 m wide, with a kerb that is at least 150 mm high.
The diagram below shows how this works for ramps and driveways.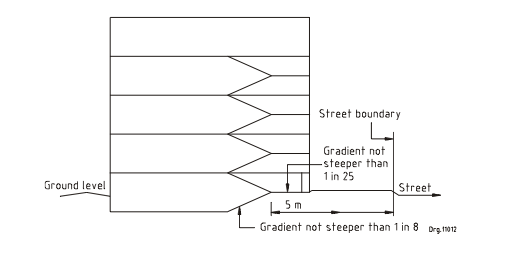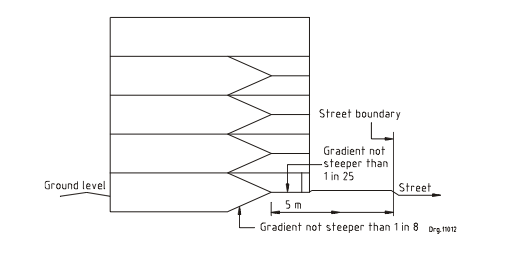 Swimming Pools
While the building regulations simply state that property owners must control access to their swimming pools, most local authorities have much stricter rules and regulations. Remember it is ultimately the local authority that will decide whether you must fence the pool.
And if you don't comply with the local authority requirements and don't control access, the regulations warn that you will be guilty of an offence. This is not the type of warning that is often seen in the national building regulations – so take it seriously!
SANS 10400 suggests several possible control mechanisms. For instance, you may install or build a fence or wall:
around the swimming pool and ensure there is a self-closing gate,
around the house and the pool and make sure that there is a self-closing gate at the entrance – and no other openings,
around the pool and the house, but in a way that leaves results in the front wall (and therefore the front door) of the house open to any area that is not walled or fenced,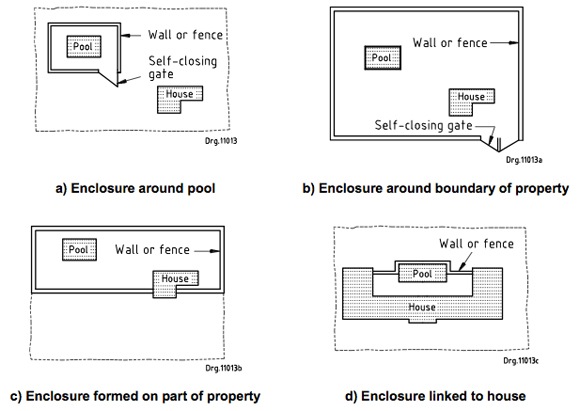 There are also guidelines for protecting children from the potential hazards of swimming pools in SANS 10134: The safeness of private swimming pools. SANS 1390: Steel fencing for private swimming pools details SABS requirements for pool fencing and self-closing gates.
The SANS guidelines may be followed, providing they are in keeping with your local authority requirements.
>
>