Danger of Tree Damage to Walls & Foundations – SANS 10400-H Annex-D
Cracks and damage to walls and foundations are caused primarily by soils that contract and expand due to moisture content when the soil absorbs water and swells up and then shrinks when it dries out. This puts pressure on foundations, and if not designed and built correctly will lead to walls cracking and even collapsing. Other soil types, dolomite for instance, can dissolve in water during heavy rains or when drainpipes and water pipes leak. This is why a professional geotechnical inspection is required in certain areas.
Dolomite Soils and Rainwater
Rain water takes up carbon dioxide in the atmosphere and in the soil (where the concentration of this gas may be up to 90 times greater than in the atmosphere) to form a weak carbonic acid. This weak acidic groundwater circulating along tension fractures, faults and joints in the dolomitic succession causes leaching of the carbonate minerals. The solubility of dolomite is high in comparison to other rocks, but significant solution cannot be seen over short periods (months or even years). The process of dissolution progresses slowly in this slightly acidic groundwater (above and at groundwater level). The resultant bicarbonate-rich water emerges at springs and is carried away.
Soil and Ground-Type Site Classifications
SANS 10400-H, Foudations, requires that a site inspection is done by a competent person (geotechnical) and that the site is then classified according to the following table: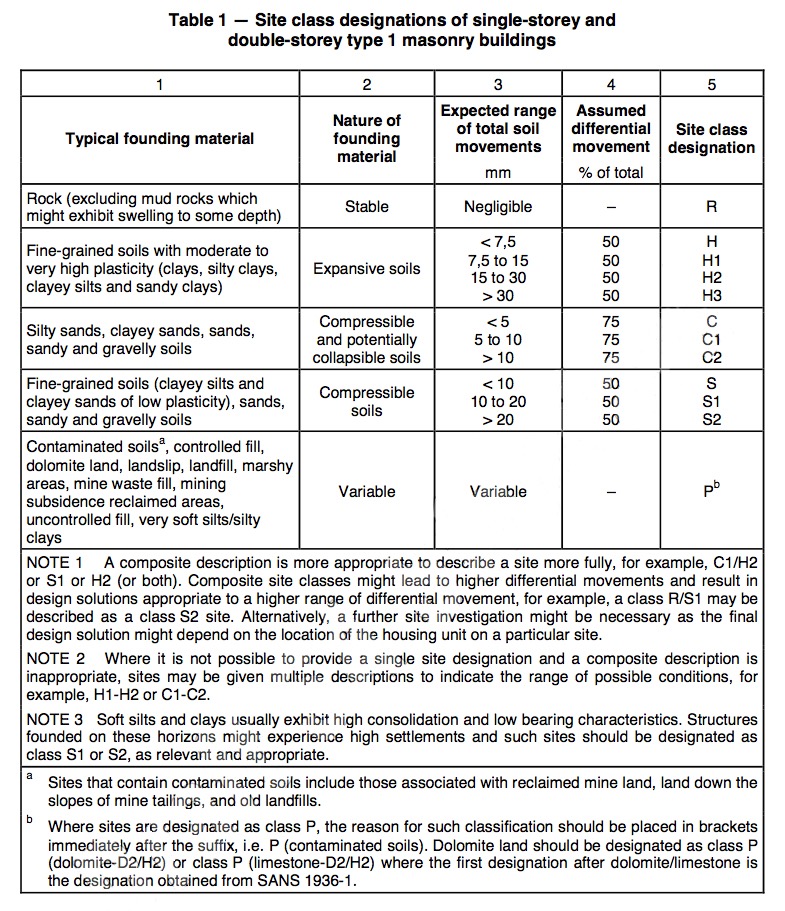 Foundation Maintenance
All soils are affected by water. Water can weaken the structure of some soils causing gradual or sudden settlements (or collapse) to take place. Expansive soils shrink or swell in response to changes in moisture content resulting in heave movements. The owner should therefore:
Pay attention to drainage of the site. Stormwater and garden irrigation water should not be permitted to pond within 1,5 m of masonry walls.
Ensure that shrubs are not planted too close to masonry walls. The regulations specify a minimum distance of 1,2 m on Class H sites, and 1,5 m on Class C1, H1, and S1 sites.
Ensure that trees are not planted closer to masonry walls than the distance stated in the table below.
Ensure the prompt repair of leaks in all plumbing and drainage.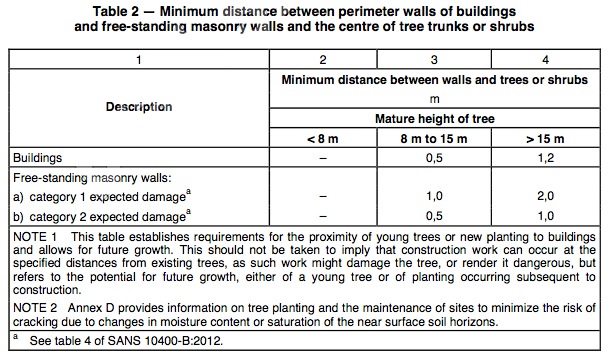 Trees That Can Cause Damage



Many structures are likely to be located in close proximity to planted or self-sown trees during their useful life. In some situations, trees can adversely affect structures and induce damage.
All trees should be regarded as a potential source of damage. The following varieties are, however, particularly prone to causing damage:
All eucalyptus varieties
Lombardy (Free State) poplars
London planes
Willows (Salix) of any type
Jacarandas
Damage From Trees Due to Direct Action


Trees can cause direct damage by
a) the growth of roots or the base of the trunk lifting or distorting structures,
b) the disruption of underground services and pipelines,
c) the direct contact of branches with the superstructure, or
d) by being blown over.
The growth of the base of the trunk, or of roots near the surface, exerts comparatively small forces. Paving slabs or low boundary walls can be lifted or pushed aside very easily, but heavier structures or stronger structures are more likely to withstand these forces without damage.
The greatest risk of direct damage occurs close to the tree from the growth of the main trunk and roots, and diminishes rapidly with distance. The risk of damage can be minimized should precautions be taken when the distance from trees is less than that given in Table D.1 (below). New trees should not be planted closer than indicated in Table D.1. Where these distances are not observed, precautions, such as the reinforcement of foundations to resist lateral thrusts and the bridging over of roots to allow for future growth, should be adopted.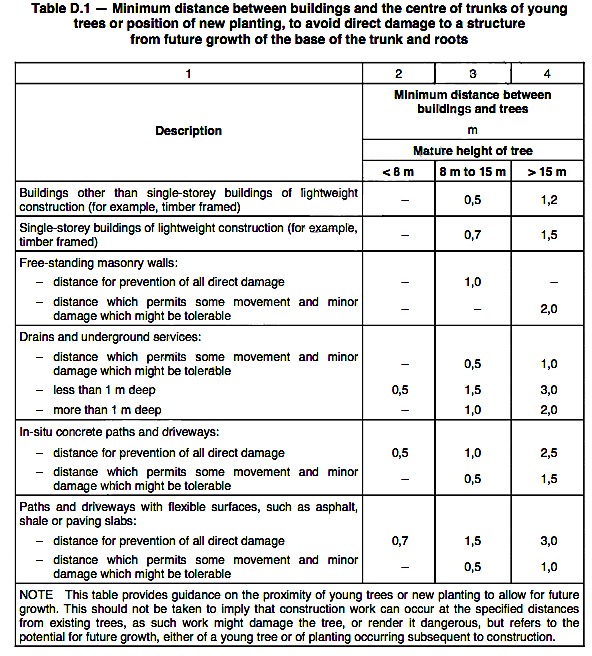 Tree Roots Can Damage Water and Drainpipes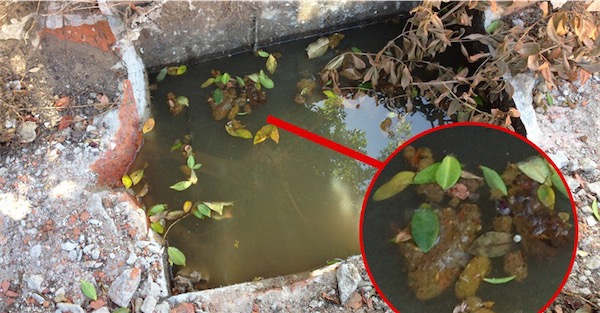 Water leaking from damaged drains, sewers or water mains will encourage localized root growth. Roots are then likely to enter a drain or sewer through the defect and proliferate, causing blockages and so aggravating the initial defect. Intact drains, provided they are further from trees than the distances stipulated in Table D.1 (above), should not suffer direct damage and will not attract roots.
Damage can be avoided:
a) by routing services in accordance with Table D.1 (above)
b) by ensuring watertight joints
c) in clay soils, with the use of flexible materials or joints (or both) to accommodate movement
Damage From Trees Due to Indirect Action
More than 99 percent of water absorbed by trees is transpired through its leaves into the atmosphere. This causes the soil to dry out and, in the case of clay soils, to shrink. Any subsequent wetting up of the clay will induce swelling. In this manner trees and large shrubs can induce movement on clay founding horizons resulting in damage to structures. The severity of movements so induced depends on the percentage of clay content and the mineralogy of the clay, the depth and extent of the root system of a tree and the efficiency of a particular type of tree to extract moisture from the soil.
To avoid damage caused by these movements, it might be necessary to adopt one or more of the following actions:
Ensure that design structures tolerate soil movements associated with trees
Ensure that foundation structures are on a horizon below the level of moisture content
Remove the offending trees and shrubs
Provide a moisture barrier as shown in Figure D.1 (below) so that roots cannot pass through, below or around them
By siting structures or planting large trees and shrubs no closer than the dstnces shown in Figure D.2 below
1) H1 sites: 0,75 × mature height
2) H2 sites: 1,0 × mature height
3) H3 sites: 1,5 × mature height
The effects of the removal of trees on clay sites should also be considered. It is important to realize that removal might induce large swelling movements as soil profiles wet up, particularly where trees have depressed the water table over a period of time.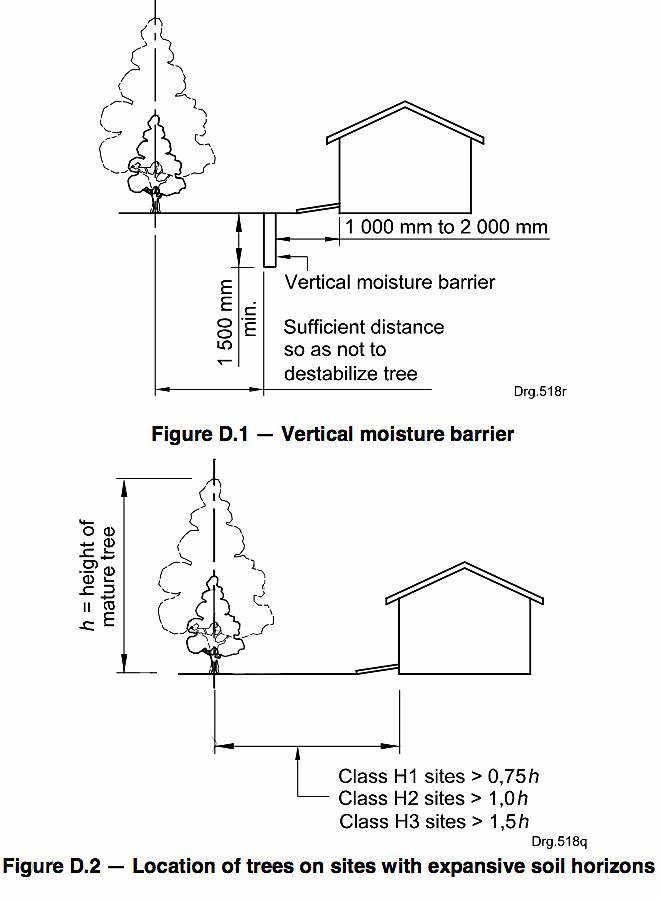 Here are a couple more pictures showing problems: