Building Regulations that Relate to
Site Operations – Part F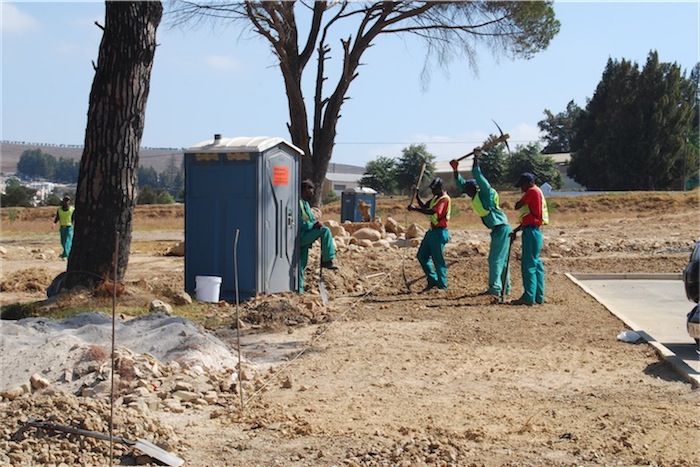 Site operations must be carried out in a safe, responsible manner. It is for this reason that Part F: Site Operations of the National Building Regulations specifies how the public and property belonging to the local authority must be safeguarded. Other issues that are addressed include:
environmental conditions,
site preparation,
soil poisoning,
control of noise and dust on site,
demolition work,
waste materials on building sites,
cleaning of sites,
sanitary facilities, and
builders' sheds.
Unlike many of the other parts of the Building Regulations, the legislated regulations (i.e. what is specified by the National Building Regulations and Building Standards Act), is considerably more detailed than the SABS Deemed to Satisfy Rules published with the regulations.
Changes to Part F: Site Operations
The most significant changes to this section relates to Unstable Soil Conditions, a heading that has changed to Geotechnical Site and Environmental Conditions. Primarily, it is to ensure that the soil that we build on is not contaminated, and it is safe. Dolomite land in South Africa has proven to be particularly problematic, and this concern is reflected in this part of the building regulations.
Interestingly, definitions of both contaminated land and dolomite land were included when the regulations were altered in 2008. This followed a comprehensive report by the Department of Public Works Appropriate Development of Infrastructure on Dolomite: Guidelines for Consultants that was published in August 2003.
The New Definitions
This is the wording used in the building regulations:
Contaminated land means any land that, due to substances contained within or under it, is in a condition that presents an unacceptable risk to the health and safety of occupants of buildings constructed on such land.
Dolomite land means land underlain by dolomite or limestone rock directly or at a shallow depth less than:
a) 60 m in areas underlain by limestone;
b) 60 m in areas underlain by dolomite where no de-watering has taken place and the local authority has jurisdiction, is monitoring and has control over the groundwater levels over the areas under consideration; or
c) 100 m in areas underlain by dolomite where de-watering has taken place or where the local authority has no jurisdiction or control over ground water levels.
Protection of the Public
This section relates to the erection of fencing, hoarding or barricades that the local authority might require to protect the public from accessing a building site. If required, this must be safe (in keeping with the local authority's requirements), and may not be removed without their approval in writing.
There are also regulations that relate to both erection and demolition activities on site. For instance builders may not encroach on adjacent land or on public space.
Damage to Local Authority's Property
If a local authority believes that demolition or erection activities MIGHT affect local authority property adversely, it has the legal right to call for a deposit (or some other sort of security) that may be used to repair any damage caused.
Geotechnical Site and Environmental Conditions
Previously "Unstable Soil Conditions", this section of the legislation has been substantial changed and is a lot longer than it used to be.
Previously the local authority simply had to inform anyone applying to build on suspect land that there might be a problem – specifically if it had reason to believe there might be "unstable subsoils or unstable slopes in the area in which a site, upon which a building is to be erected, is situated". Clearly this was too vague.
The legislation now states that where a local authority "has reason to believe that a site upon which a building is to be erected" is:
situated on contaminated land,
situated on potentially unstable land where a risk could be reasonably foreseen, that ground movements caused by land-slip, slope stability or subsidence may impair the stability of the building or part of it, or pose a threat to the safety of future occupants of the building, or
underlain by subsoils that have the potential to cause movement of foundations caused by swelling, consolidation, shrinkage or settlement, and as a result might impair the stability of the building (or part of it),
it must inform the person applying to build of the probable situation.
If the person applying to build IS aware of the fact that the land is either contaminated or potentially unstable, they are bound to "appoint an approved competent person to undertake an appropriate goetechnical site investigation".
The definition of "competent person" also changed when the legislation was updated in 2008. Previously the term meant "a person who is qualified by virtue of his experience and training". Now it means "a person who is qualified by virtue of his education, training, experience and contextual knowledge to make a determination regarding the performance of a building or part thereof in relation to a functional regulation or to undertake such duties as may be assigned to him in terms of these regulations. 
This person is required to determine – using accepted principles, methods and technical considerations:
whether or not a building may be constructed or erected on the site, and if permission is granted, what conditions should be applied, and
the magnitude of any potential and differential movements that the building (or part of it) might be subjected to.
Any geotechnical investigations should be conducted in accordance with the requirements of SANS 10400 Part B: Structural Design (in the case of dolomite lands) and Part H: Foundations.
Preparation of Site
Before any foundations may be laid, the area where the building is to be constructed must be properly cleared of all vegetable matter including tree stumps, timber and other cellulose material, as well as debris, refuse and any contaminated materials.
If the site is waterlogged, seasonally waterlogged (in other words not necessarily waterlogged all the time) or saturated with water, or where any building will be situated so that water will drain naturally towards it, drainage must be provided so that the water is directed away from the site or building to a storm water drain, or disposed of in another "safe approved manner".
Soil Poisoning
The section was also expanded in 2008, and a reference to termites included. Essentially the regulations now insist on protection from subterranean termite activity if the local authority deems this to be necessary (which would be in areas of high termite infestation). Treatment must be in accordance with SANS 10124.
Control of Unreasonable Levels of Dust and Noise
Owners of land where excavation work is in progress, or where a building is being demolished or erected, must take precautions to limit the amount of dust that makes its way to surrounding roads and footways to a "reasonable level".
Anyone involved in demolition, excavation and building work has to take care not to "unreasonably disturb or interfere with the amenity of the neighborhood". Specifically there are times that they may not use any machine, machinery, engine, apparatus, tool or contrivance that is noisy or makes a lot of dust.
Before 6 am and after 6 pm any day of the week.
Before 6 am or after 5 pm on a Saturday.
On Sundays or public holidays.
Previously the legislation only applied to a handful of public holidays: Good Friday, Ascension Day, Day of the Vow, Christmas and New Years Day.
This prohibition is waived if the use of machines etc. is required urgently to:
preserve the life, safety or health of any person,
preserve property,
execute work on behalf of a public authority, or
the work has been authorized by the local authority.
Cutting Into, Laying Open and Demolishing Certain Work
This all-important section of the National Building Regulations specifies when a local authority can demand that building stops or a structure must be demolished.
This might be because the local authority believes that the work has not been carried out in accordance with the NBR, or because approval was not granted. If this is the case, the local authority must give notice in writing for the owner of the building to:
supply proof that the work is in accordance with the regs and/or it has the approval of the authority,
cut into, lay open or demolish the building (whatever the local authority deems fit),
insist that tests are carried out.
If tests have to be demanded, then the owner is obliged to supply a written report to the council that states (amongst other things) what was used for testing, who did the test, and what the results of the test were. If the officials are not satisfied, they may take further steps in terms of the regulations – possibly to insist on demolition.
Waste Material on Site
If owners of building sites allow excessive rubble, rubbish and other debris – or combustible waste material – to accumulate, they can expect to receive written notice to have it removed within a certain period. If they don't comply, they will be regarded as being "guilty of an offence" and the local authority then has then right to remove the materials and make them pay the bill.
Cleaning of Site
This is essentially the same regulation that applies to waste material, only here the regulations refer to "surplus material and matter" that has accumulated on site, or on adjoining land or a public street.
Builder's Sheds
Builder's sheds are legal on building sites as long as they are properly maintained and only used for building purposes. When building ceases, the shed has to be removed. You can't for instance, decide to keep the shed and use it for your garden tools.
Sanitary Facilities
It is against the law to do any demolition or construction work if there are no approved sanitary facilities for workers and other personnel. If sanitary facilities are not provided, the local authority can halt the building process.
>
>