Stormwater Disposal-Part R, What the Regulations Say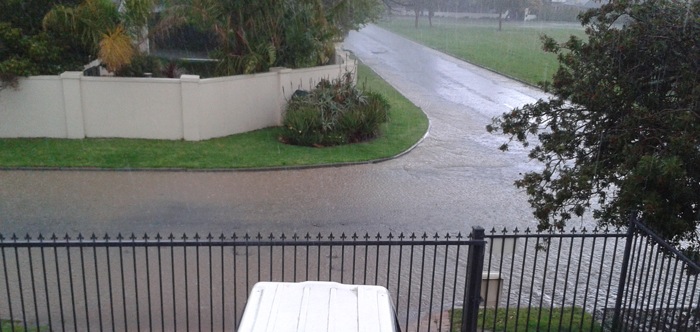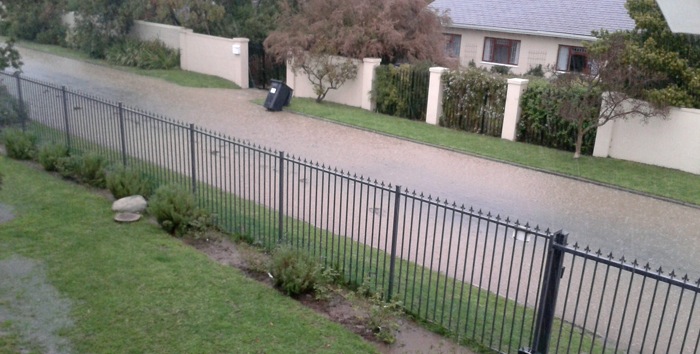 Property owners are responsible for the removal of storm water from their property. They may NOT simply discharge excess water onto adjacent land or into the street unless this is permitted by neighbors and/or the local council or municipality.
SANS 10400: Part R Stormwater Disposal
The law is very clear on the issue of stormwater disposal, although sites used exclusively for "dwelling houses" and dwelling units (defined as "one or more habitable rooms and provided with sanitary and cooking facilities") are not as carefully controlled as larger buildings.
Note that a dwelling house is (in terms of the legislation) a single dwelling unit and any garage and other domestic outbuildings that are situated on the site. A dwelling unit contains one or more habitable rooms and it provided with both cooking facilities and adequate sanitary facilities.
Part R of the Act states: "The owner of any site shall provide suitable means for the control and disposal of accumulated stormwater which may run off from any earthworks, building or paving."
The legislation also states that the "means of stormwater disposal" used may be addition to, or in combination with any drainage that may be required in terms of F4(2). SANS 10400: Part F Site Operations is described in more detail in the section on site operations on this website. The relevant section – 4(2) – is also discussed below.
These legal requirements will be "deemed to be satisfied" if the stormwater is provided in accordance with SANS 10400-R (the SANS drawn up by the SABS for "The application of the National Building Relations", Part R), which is available from the SABS online store  for R174.42 incl. VAT.
SANS 10400, Part R deals with all types of stormwater disposal, including rain water from gutters, downpipes, roofs, and paving, and any other excess water that may accumulate on the property. It refers readers to Part H, Foundations stating that it is essential to have good, effective drainage of areas that are in close proximity to buildings, to ensure that ground movement is minimized.
Scope of Part R, Stormwater Disposal
The focus of Part R is on the disposal of stormwater on individual sites, but also included interconnected complexes that have multiple dwelling units, including both cluster homes and retirement, village-type properties where management of common property is often controlled by a management body of some sort.
Two types of stormwater system are defined in the regulations:
Major stormwater systems that cater for severe, infrequent storm events
Minor stormwater systems that cater for frequent storms of a minor nature
The rational design of these systems – if required – must be undertaken by "a competent person involving a process of reasoning and calculation and which may include a design based on the use of a standard or other suitable document." The concept of a competent person is discussed in some detail in another article. However Part R states that a competent person required for stormwater system designs must be a civil engineer who is registered in terms of the Engineering Profession Act 2000 as a professional engineer or professional engineering technologist. Alternatively this person must have a tertiary qualification (a degree or a diploma) in civil engineering.
The legislation (the Act itself rather than the deemed to satisfy rules compiled by the SABS) states that it is the right of the local authority to demand that storm water disposal is provided in accordance with "an acceptable rational design prepared by an approved competent person" So if your local authority is of the opinion that a qualified person should design a stormwater disposal system for your property they must notify you (or the owner of the property) and explain their reasons in writing, and demand that plans and particulars of "a complete stormwater control and disposal installation" for the site and any buildings on it, are submitted for approval.
Stormwater Control and Disposal
The legislation states that the regulations should not be interpreted specifically as requiring roof gutters and downpipes if another suitable means of drainage has been provided to remove or disperse rainwater from the roof of the building. There are alternatives that architects sometimes prefer.
As always, the deemed to satisfy rules take this further. These state that any stormwater that emanates (or flows) from the roof, paving or any area that is in the immediate vicinity of a building shall not cause damage to the interior of the building, its structure or its structural elements. Steps must be taken to ensure that water does not accumulate in a way that "unduly inconveniences" the occupants of any building.
Part R also specifies other requirements of stormwater disposal arrangements. The system:
must not undercut foundations by erosion or flooding
must drain away from all buildings
must not allow water to accumulate against or close to external walls
must make provision for the drainage of any sites on the property that become waterlogged at any time
must be capable of being easily maintained and cleaned
Part R also specifies some of the disposal arrangements that need to be addressed, specifically:
those that allow rainwater to flow off the roof and away from the building, including roof valleys, gutters, and downpipes
those that channel surface water into stormwater drains that are either on the surface or below-ground, or channels – depending was is needed to remove stormwater from the site or to another part of the site where it will not affect the buildings
Ultimately, all drainage must  be shown on plans submitted to the local authority, and it is up to the local authority to decide whether these are suitable and adequate for each individual site. Also, it is the decision of the local authority whether stormwater may discharge into a stormwater system that is provided for a public road, or any servitude, or onto the street.
One of the major issues is people simply discharging their stormwater onto neighboring properties.  While the Building Regulations do not state that this may not be done, the Building Regulations do give very clear guidelines for stormwater control and disposal, and these DO NOT include the discharge of water into your neighbour's garden! 
Stormwater Disposal in Interconnected Complexes
While the regulations and deemed to satisfy requirements described above apply to all properties, including complexes that are interconnected, there are additional requirements for the latter. For instance it is essential that stormwater is "controlled, safely routed and discharged from interconnected complexes without unduly eroding land, unsurfaced roads or water courses, contamination water resources or compromising environmentally sensitive areas identified in environmental impact assessment reports."
In addition, both major and minor systems must be designed to cope with design flood recurrence intervals of both 50 and two years. At present there is legislation that requires flood lines for "townships" to be determined for 100-year recurrence intervals. This is because the storm water flow from 100-year floods is typically 25 percent greater than for 50-year floods. Part R states that major storm systems can be designed for a 50-year flood provided that the certified 100-year flood lines remain unchanged. This is very important.
Other requirements include:
the creation of terraces for dwelling units, where needed, that will allow the water to drain by gravity
the avoidance of erosion caused by too much water
specifications for the velocity of stormwater flow in road-edge channels constructed as part of a minor stormwater system
the need for channels built in soil that is susceptible to erosion to be lined
a specification that pipes in servitudes must have a diameter of no less than 300 mm
There is also a table that specifies minimum stormwater pipe gradient in relation to the diameter of the pipe. So if the minimum 300 mm pipe is used the desirable minimum gradient is 1 in 80, and the absolute minimum gradient is 1 in 230. If the maximum 1 200 mm diameter pipe is used, then the desirable minimum gradient is 1 in 520, and the absolute minimum gradient is 1 in 1500.
Gutters and Downpipes
There are some important specifications that relate to gutters and downpipes, including a table that gives roof, eaves and valley gutter sizes. In summer rainfall regions, the internal cross-sectional area of a valley or gutter per square metre of the roof plan area served (per square mm) is 140; in winter rainfall regions this is 80; and in areas where it rains all year round, the figure is 115.
In addition, the internal cross-sectional area of downpipes shall be not less than 100 square mm/square m of roof plan area served by such downpipe, or 4 400 square mm.
SANS 10400: Part F Site Operations F4(2)
Part F4 deals with preparation of a site that is to be built on. Point (2) states that when a building is to be erected on a site that is waterlogged or saturated with water, or where any building is going to be situated so that water will drain naturally towards it, drainage must be provided to direct the water away from the site or building, to a storm water drain, or somewhere that it can be disposed of in some other safe and approved manner.
Note that these requirement are in addition to Part R.
SANS 10400: Part L Roofs
This part of SANS 10400 is dealt with elsewhere on this site in the section on Roofs.
Waterproofing and runoff are dealt with in some detail in the relevant SANS for The application of the National Building Regulations.
Other SANS that deal with Stormwater Drainage
Additional SANS that deal with storm water drains and gullies are intended for the use of civil engineering construction and include:
SANS 1200 LE – Standardized specification for civil engineering construction Section LE: Stormwater drainage.
This is a drawing from the above SANS that shows how a precast concrete manhole for storm water should be built.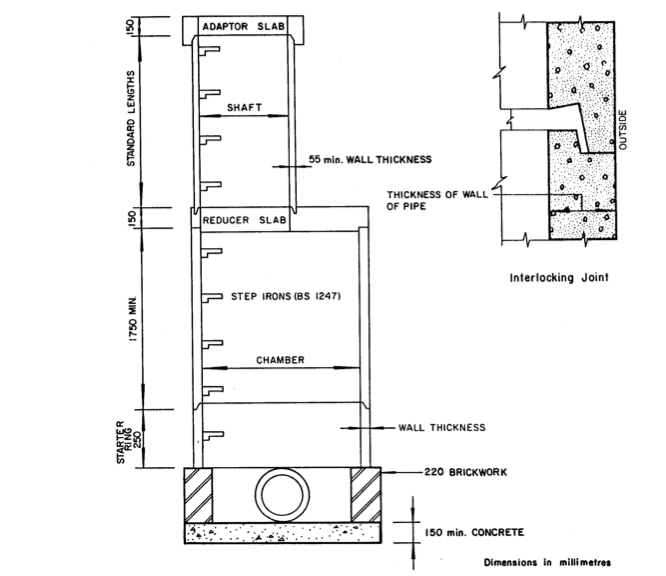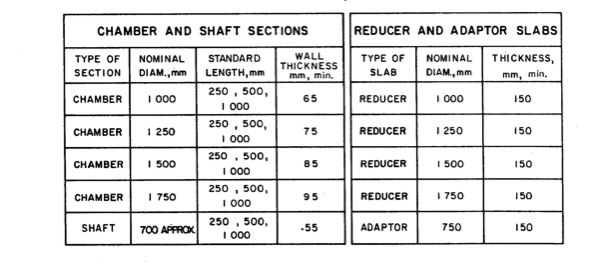 SANS 10120 – A Code of practice for use with the above, including:
Part 2: Project specification Section LE: Stormwater drainage
Part 3: Guidance for design Section LE: Stormwater drainage
Part 4: Typical schedule of quantities Section LE: Stormwater drainage
Part 5: Contract administration Section LE: Stormwater drainage
>