Take Charge of Your Home Building Venture as Project Manager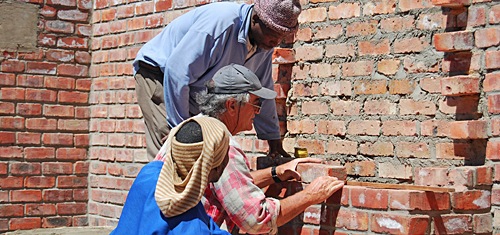 Anybody who is serious about owner building will want to have a degree of control to ensure that the project stays on track. This doesn't necessarily mean that you have to be hands-on. Taking on the role of project manager simply means that you are the chief coordinator. It also means that you can keep a close eye on finances to ensure that you don't go over budget.
What Coordinating an Owner Building Project Entails
Briefly, any building project involves:
Drawing up plans according to the requirements of the National Building Regulations and the local authority,
Compiling a schedule of finishes according to the plans,
Quantifying and costing materials and labour according to the schedule of finishes,
Establishing a construction schedule,
Overseeing construction – or ensuring the competent person involved in your project does this,
Contacting the local authority at various stages to check building progress,
If you have a building bond, you will also have to notify the bank at various stages of the building project to be able to take "draws".
In addition, because you are owner building, you will need to apply for an exemption from enrolling the house with the NHBRC.
In terms of the Housing Consumers Protection Measures Act as amended in 2007, an owner builder is:
a person who builds a home for occupation by himself/herself, or
a person who is not a registered home builder (with the NHBRC) and who assists someone building a home for his/her own occupation.
The Act was initially promulgated in 1998 and did not specifically address the status of owner builders. Instead it stated that all home builders (in the business of building homes) had to register with the NHBRC. Since owner builders are not in the business of building homes, this became something of a loophole. It also became an issue with some financial institutions that refused to approve mortgage bonds unless a registered builder was in charge of the construction project. This can still be an issue, in spite of the fact that the law now allows owner builders to apply for NHBRC exemption.
Note that the NHBRC requires owner builders to retain ownership of the property for at least five years.
If you want to owner build and be your own project manager, you will need to complete a short multi-choice exam with the NHBRC to prove that you have adequate building knowledge. If you don't, you will have to appoint an approved project manager.
Plans
In terms of the National Building Regulations, a competent person (usually an architect, architectural designer or draughtsman) must draw up plans and submit the application to build to the local authority. This means that as project manager, you will need to work very closely with the person you appoint.
Of course if you're not keen on the idea of being project manager yourself, you could either employ one, or you could ask whoever does your plans to project manage the build for you.
Just remember that at the outset, you need to be sure of the exact role your competent person will play. This will impact both on the degree of responsibility this person takes on, and of course his or her fee.
Schedule of Finishes
Your architect (or whoever you appoint as the official competent person on site) will specify the materials that should be used for the build, in consultation with you. These will include everything from the bricks or blocks to be used, to finishes, like plaster and paint.
In addition to what is shown on the plans and working drawings, a schedule of finishes should include all the nuts and bolts (both literally and figuratively speaking), like ironmongery, taps and other bathroom fittings, cabinets to be fitted in bathrooms and kitchens and cupboards in bedrooms. The more detailed the schedule of finishes is, the more accurate the quantifying and costing exercise will be.
Quantifying and Costing
Quantity surveyors are trained to accurately quantify and cost building projects. Professional project managers and companies that offer various computerized services for the construction industry, also offer this service. But there is no reason why an owner builder shouldn't do these estimates himself – or herself. It certainly makes sense if you are planning to be your own project manager. You can do this manually, or use a computer-generated costing.
Here are some pointers:
Don't be tempted to work on a cost per square metre. While it will give you an idea of the size house you can afford to build, too many factors will throw this type of thumb suck calculation out.
When it comes to concrete, bricks and mortar, you will need to estimate according to surface areas, depth and so on. Owner Building in South Africa has some useful tables that will help you to establish how many bricks or blocks you will need per square metre as well as the volume of mortar you will need, and how to estimate plaster requirements.
In addition to materials, labour must also be costed in the equation, according to the general rates paid in your area – which should be at least the minimum wage specified by law (specifically the Basic Conditions of Employment Act).
When you cost materials, always get two or three quotes or prices, and check availability. If items are going to be delivered, make sure you add this cost in.
Don't forget to cost in things like plant hire, storage sheds, site toilets, and water and electricity connection fees.
Construction Schedule
The construction schedule is what takes most coordination. While there is an obvious sequence of activities, from setting out to completion, many of the individual activities overlap. For instance, the roof may be tiled at the same time as the electrician is completing the wiring. This means that you, as project manager, will need to make sure you know exactly who must be on site when.
A simple bar chart will enable you to plan when – in real time – activities should be scheduled. As an example, in the first week you will get the site ready (or if you are employing a building contractor, he will), and in the second week you will set the building out. Once this is complete the foundations can be dug, which might be towards the end of the second week. At this point the local authority will need to inspect the trenches. If a site visit is not arranged timeously with the municipality, it can throw the whole schedule out, because you won't be able to cast the concrete until you get the official go-ahead.
As project manager you will also have to monitor progress. If anything is delayed, you will have to take immediate action to ensure that future activities will not be affected. For instance if the brickwork has not been completed, and the glass for windows has been ordered for a specific date, you should change the delivery date. Similarly, the electrician won't be able to chase into walls if they aren't yet finished!
Ultimately, anyone planning to project manage a build should have some idea of the construction process, and the time to be able to spend organizing and checking on other people.