Site Safety during Demolition-Part E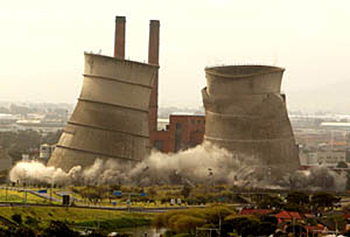 If you have to do some demolition work before you build, Part E is the section of the National Building Regulations that you need to familiarise yourself with. But really all it states is common sense and caution.There are only three elements that are covered: 1 – demolition itself, 2 – making sure basements are safe during and after demolition, 3 – prohibition of dangerous methods of demolition. And if you contravene any of these, or ignore any notices, conditions or orders that relate to the demolition, you will be considered to be guilty of an offence.
Demolition of a Building
First and foremost you have to get permission from your local authority before you can demolish a building or solid structure on your property.
Very often the local authority will give permission, but at the same time impose specific conditions that must be adhered to according to Part F of the National Building Regulations – Site Operations.
Essentially the sub-regulations they normally refer to are those that relate to the safety, health and convenience of the public, and those that aim to prevent damage to property, which might include neighbouring buildings, not just the structure that you are wanting to pull down.
The building regulations state categorically that nobody is allowed to leave any build that is in the process of being demolished, or which has been demolished, in a dangerous condition. Again this is primarily to protect members of the public as well as neighbouring properties.
If the local authority finds that the site is dangerous in any way, they can serve a notice requiring you to immediately make it safe, and if you don't, they can do the necessary work and then hold you liable for costs.
Safeguarding Basements
Basements can cause great challenges during and after demolition, particularly when a building is flattened to ground level. In this event the owner of the property must ensure that there is safe lateral support for the sides of the basement.
Prohibition of Dangerous Methods
Safety is paramount, and the local authority will decide whether or not you may use a particular demolition method. For instance blasting in a built-up suburb may be considered a danger to either other buildings or people, or both. If they do not allow a particular method to be used, the owner of the property is entitled to a relevant reason, in writing.
>
>