How to Build Your Own Pergola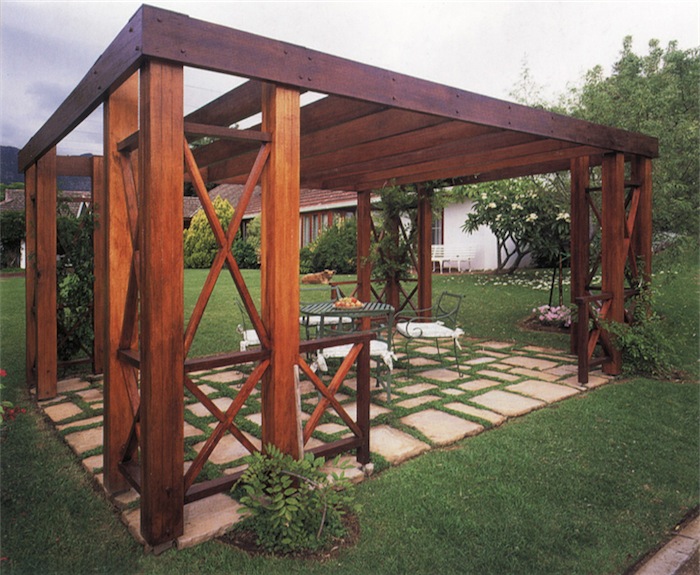 This carefully designed, beautifully constructed wooden pergola looks rather grand and imposing. However, while it is certainly a relatively large-scale project, involving a fair amount of timber, there are no complicated joints, and you won't need any specialised tools.
You can simplify the project even further by buying ready-planed timber that has been cut to size. Use the sizes given in our materials list as a guide, but buy the closest dimensions if these are not available. Bear in mind that conversions from metric to imperial measurements will never be exact. If in doubt, rather buy wood that is slightly longer than required. Also remember that the dimensions of off-the-shelf rough timber are greater than timber that comes ready planed.
>
>
Materials Required to Build the Wooden Pergola
For the concrete:
3 bags cement (150 kg or 330 lbs)
6 wheelbarrows sand (40 litres x 6 or at least 50 gallons)
6 wheelbarrows crushed stone (19 mm or ¾ in is ideal) or gravel
Upright posts:
24 x 144 mm x 69 mm (5¾ ins x 2¾ ins) x 2,4 m (7.8 ft) glued in pairs to make them thicker
4 x 144 mm x 69 mm x 770 mm (30 ins)
Note that if you are going to concrete the posts into the ground, they will need to be at least 500 mm (or about 2 ft) longer, and you will need extra concrete for the footings.  
Rails:
4 x 69 mm x 44 mm (2¾ ins x 1¾ ins) x 550 mm (22 ins)
28 x 69 mm x 44 mm (2¾ ins x 1¾ ins) x 500 mm (22 ins)
Planed timber crosspieces:
16 x 44 mm x 32 mm (1¾ ins x 1¼ ins) x 1,2 m (about 4 ft)
24 x 44 mm x 32 mm (1¾ ins x 1¼ ins) x 760 mm (about 30 ins)
Beams:
2 x 220 mm x 44 mm (8¾ ins x 1¾ ins) x 5 m (16.4 ft)
9 x 220 mm x 44 mm (8¾ ins x 1¾ ins) x 3,5 m (11½ ft)
Post anchor supports:
12 x heavy-duty post anchor shoes
4 x lightweight post anchor shoes
Fasteners:
24 x 150 mm (6 in) x 10 mm (1/3 in) hexagonal bolts with washers
60 x 100 mm (4 in) x 8 mm (¼ in) coach screws
50 mm (2 in) oval wire nails
Exterior wood glue
Exterior wood sealer
Tools Required to Build the Wooden Pergola



Spades and shovels for digging the footing and mixing concrete
Tenon saw to cut the timber
Circular saw (optional)
Electric router to cut a groove in the upright posts before they are joined in pairs
Mitre box to mitre the ends of four of the beams and to cut the diagonal timber both above and below the railing
Chisel to make housings in the diagonal lengths of timber (to form the criss-cross pattern)
Carpenter's square to accurately measure wood to be cut
Clamps to hold the uprights lengths of wood together while you glue them in pairs
Electric drill with suitable wood bits to make holes for screws and bolts
Spanners to tighten the screws and bolts
Hammer to secure the nails
Paint brush to seal the wood
How to Build a Wooden Pergola for your Garden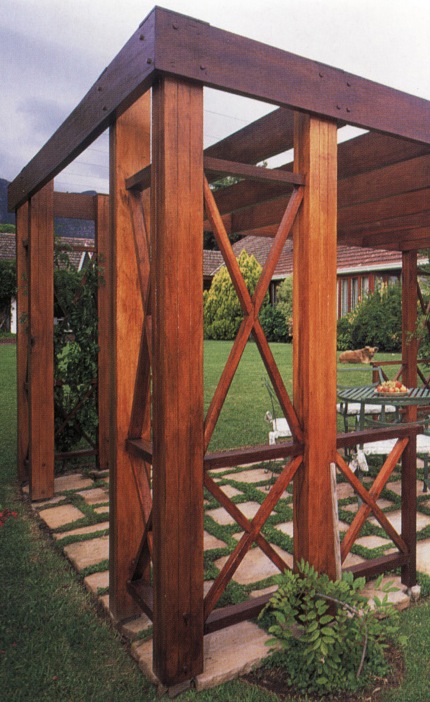 The first step is to set out the structure accurately to ensure that all the upright posts are correctly positioned. This is vital, since if you are even a few inches out, the beams are not going to fit. If they are spaced too widely, you will have a real problem!
You can throw a concrete slab at each corner of the structure and, once it has set and hardened, you can bolt post anchor brackets to the concrete, and then bolt these to the posts. Alternatively you can use anchor brackets that are designed to be concreted into the ground. Either way, you will need to mix the cement, sand and stone together with sufficient water to make a nice pliable mix that is easy to handle. Make sure it is not too runny, or you will lose strength.
Use the router to cut a 69 mm (2¾ in) groove vertically in each of the 24 upright posts, where the two pieces will be joined. This will not only look attractive, but it will also create the visual impression that the rails have been inserted right through the posts, making the structure look even more solid than it is.
Note that if a variance of the 144 mm x 69 mm timber specified is used for the upright posts, the groove should match the smaller dimension of the wood.
Now glue the posts in pairs and bolt them into position. Use clamps to keep the timber together and brace it so that it stays upright. You may need to do two or three posts at a time, depending on the number of clamps you have available. Allow sufficient time for the wood glue to dry, before moving onto the next set.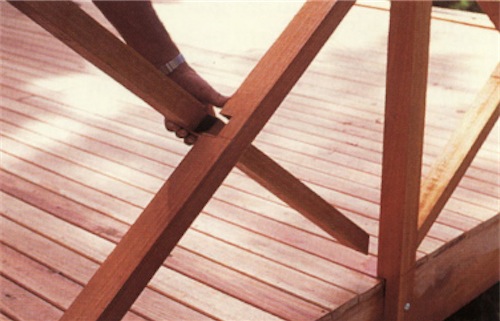 While you wait for the wood glue to dry, nail the diagonals in place. You will first have to cut the ends of each of these at an angle. Use your mitre box and saw to do this. To achieve the criss-cross effect, you need to join the two diagonals with a cross halving joint. Use the tenon saw to cut the joint, and the chisel to create a 32 mm x 22 mm (1¼ in x ¾ in) slot in the centre of each length of timber. Note that the 32 mm x 22 mm dimension is in keeping with the size of the timber specified (32 mm x 44 mm). If you opt for a different size, however slight, adapt the dimensions accordingly.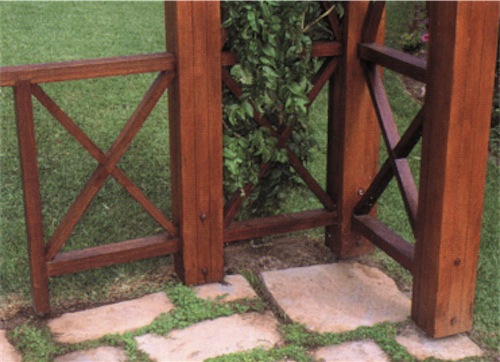 It is a good idea to glue the joints before skew nailing the ends to the posts.
Also pre-drill the wood for the nails and coach screws to prevent it from splitting.
Once the diagonals are in position, skew-nail the railings in place.
Now mitre the ends of the four outside beams that form a frame for your pergola "roof". This will ensure that the ends meet neatly at the corners. Fix the two longer beams in place first, using coach screws to secure them. Then measure and mark the position of all the shorter beams Bolt the two outer beams with two coach screws at each end, where they meet the long beam. Then bolt the inside beams, ensuring that they are evenly spaced.