How to Design a Small Bathroom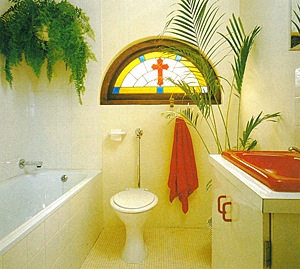 Every centimetre counts in a small bathroom, whether it s a guest cloakroom, a shower room or a tiny cubby-hole in an apartment. Small design errors which may go unnoticed in a large bathroom can easily become a major source of frustration in a confined area.
• Investigate the possibility of including smaller-than-average fixtures. Baths and basins are available in minute sizes, some designed especially for caravans and boats. A deep hip-bath is ideal for a small bathroom, as it can be squeezed into virtually any corner, and a small wall-mounted or recessed basin occupies very little room.
• If there is no space for a shower cubicle, install a shower head above the bath. Enclose the tub with a transparent screen, which looks neater and more compact than a shower curtain and does not visually reduce the size of the room.
• If you are faced with a really tiny area which can only accommodate a toilet and basin, consider transforming the entire space into a shower cubicle. Incorporate a drain outlet in the centre of the room and plumb a shower-head into any wall – it won't matter if the toilet and basin get wet because they are both impervious to water.
• Find innovative ways of providing extra storage space: fit glass shelves across a window; install slimline mirrored cabinets above the basin; hang epoxy-coated wire baskets on the wall. A wide removable shelf, mounted immediately above the cistern, utilises otherwise wasted space.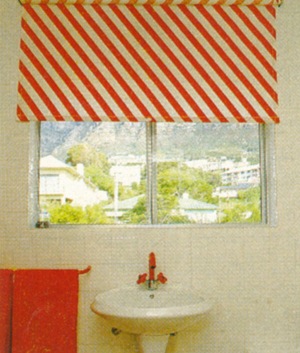 • Sliding doors (on both cupboards and entrances) take up less room than conventional doors.
• If there is no space for a towel rail, fix hooks to the back of the door.
• Line the walls with mirrors. They never fail to make a small, cramped area seem bigger.
• Cover the window with roller or Roman blinds instead of bulky curtains.
>
>
>
>
>