Planning House Extensions
Whether you are building a new home or planning house extensions to an existing home, you are going to need building approval from your local authority. Even if you are simply opening up a wall or partitioning a room by erecting a new internal wall, most councils will insist on working drawings.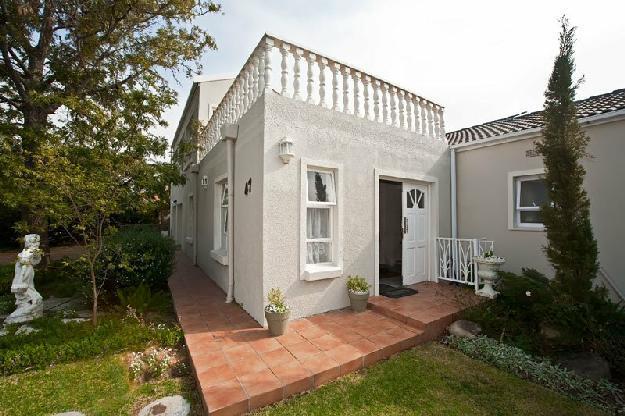 They won't worry about issues like matching materials or style, but they will consider all the elements that relate to building codes and building standards.
Extension Options
There are various ways that you can extend an existing house. For instance you can go up and create a second storey or opt for a more straightforward lateral extension. If the pitch of your roof is sufficient, you might be able to convert this into an attic room. Alternatively you could add a separate freestanding structure with a link to your existing house.
Having said that your local authority isn't going to be bothered with style, this is an element that is essential if the extension is going to look good. Materials should also match or look as though they have been chosen carefully. This means that if yours is a facebrick dwelling, the extension should be built using the same finish facebrick. If it is plastered and painted, it is best to match the paint colour. This isn't always as easy as it might seem, since paint colors fade and from time to time manufacturers change their specifications.
Planning for a Building Extension
Sometimes, but not always, people do plan for future extensions. This makes it a lot easier when it comes to adding on a room or converting space. As an example, where a future door is planned, building in a lintel at this point, and enclosing the door area with straight joints will make it easier to knock out the brickwork at a later stage. The fact that the bricks aren't bonded beneath the lintel won't be an issue, because the lintel will support those above.
Even so, you will need to be sure that the extension is correctly executed, with the correct foundations (unless of course you are going up, in which case you will need to have existing foundations that can take the weight of the new building extension), and where brick or block walls meet, these will need to be bonded, or joined in such a way that cracking will not affect the structure.
Types of House Extensions
These include:
building a core house and then adding to it later according to existing plans
converting a garage into extra living space
converting an attic into habitable space
constructing rooms in a roof where there is no existing attic
adding or converting a cellar
adding a conservatory, sunroom or pool room, usually with glass
In all instances it is essential to ensure that your new house extension complies with
building standards
.
Develop a Core House
If you are building and you don't have the means to build the size house you believe you need, an excellent solution is to build over a period of time. Thoughtfully designed, it will never look incomplete.
Below are three drawings that show how a core house (coloured yellow) may be added to over time.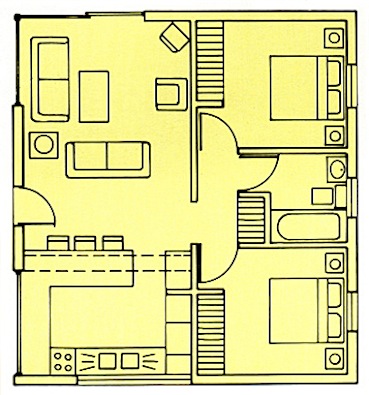 In the first drawing, you can see that it is a simple, compact two-bedroomed home. Both bedrooms share a bathroom and they are both the same size. Each room has built-in cupboards and there is a laundry cupboard in the passage outside the bathroom. The living area is open plan, with a bar counter "dividing" the living space.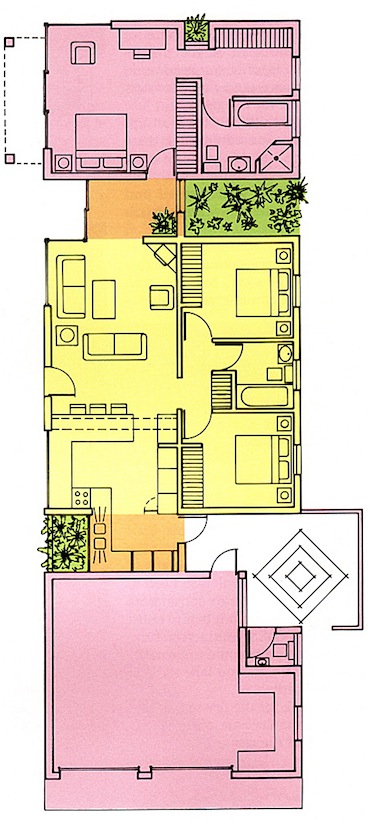 In the second drawing, the kitchen has been extended, in such a way that existing plumbing is used, even though the sink changes position. An exterior door is added, linking to a courtyard with a washing line, and to a double garage. One section of the garage incorporates a storeroom, adjacent to a loo with a basin, accessible from the courtyard.  The main bedroom is also included in this phase, although it could, of course, be built on later, since it is at the opposite side of the house. An en suite bathroom and more substantial cupboards are also included in the new plan.
In the third drawing, an open-plan lounge-dining room has been added (blue), along with a new entrance way and a guest loo. A swimming pool has also been included on the plan, though this could also be a separate phase.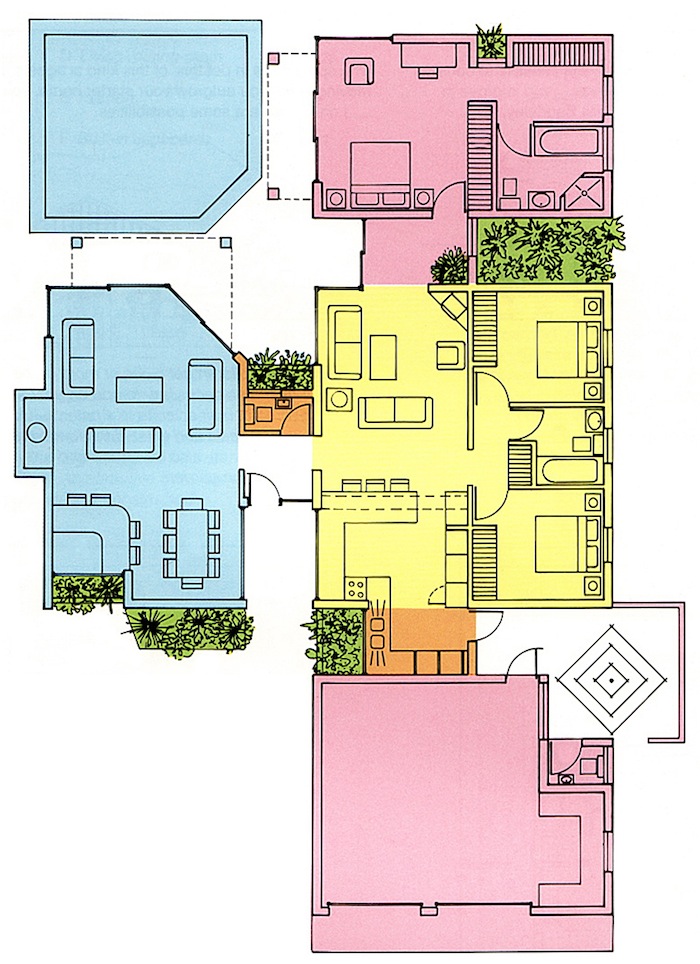 Convert a Garage
This can be a very convenient and reasonably easy way to extend a house, although local authorities are usually strict in terms of upgrading the existing finishes. For instance you may need to have a ceiling installed, and lighting and ventilation might need to be upgraded.
Add a Sunroom, Pool Room or Conservatory
There are companies that specialize in glazed structure (or one where a polycarbonate material is used) that fit this category, though you can also have something designed and custom built.
Go into the Roof
Many older homes were built with attics that were intended to be used for storage. You might need to add windows and insulate the walls and ceilings to make the space habitable.
If there isn't an existing attic, and the roof is high pitched enough, you might consider building a room in the roof space. The basic concept is very similar to converting an attic, although structural alterations will be considerably more complex. If the pitch is not sufficient, you will have to extend the gable ends and increase the pitch of the roof.
In both instances you will probably have to add stairways that are easy to use.
In South Africa and other hot-climate countries, the roof space (and attic) in a house can become unbearably hot, so it is essential to pay attention to insulation.
Go Underground
Cellars are surprisingly uncommon in South Africa, but they are sometimes included in the design of a house, and may be added at a later stage providing the foundation walls are high enough. Generally it is easier to add a cellar where the house has been constructed on a slope.
Just remember that for a cellar to be converted into a habitable space (even if only as a playroom), it must be totally dry (there must be a damp-proof membrane between the brickwork and the soil beneath ground level) and have sufficient light and ventilation. Usually this will entail installing artificial ventilation and electric lighting.