Tips on How to Remodel Your Bathroom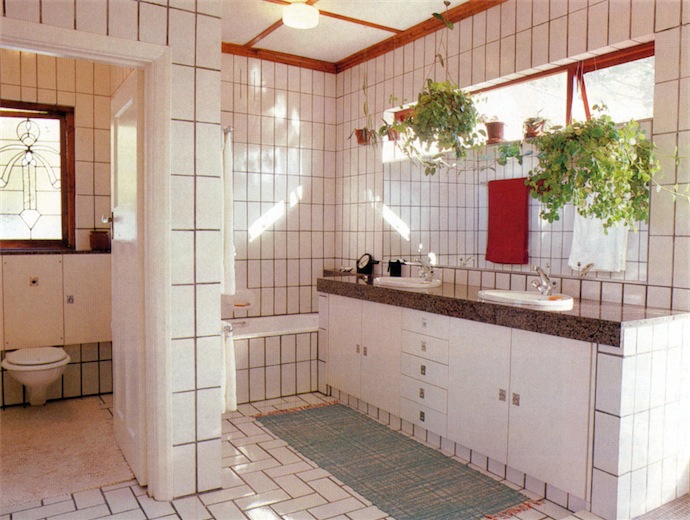 A comprehensive survey of the functions and fittings of an existing or future bathroom will help you to organise your thoughts and will also give you a good idea of the size and cost of the project that lies ahead.
Before you rush out and order hundreds of tiles or choose a new sanitaryware suite, take a little time to make a realistic appraisal of your requirements. If you have a clear idea of what you have and what you want, and possess at least a rudimentary knowledge of the relevant aspects of bathroom design you will be able to tackle the complicated tasks of employing contractors, ordering materials and choosing fittings with confidence.
First sit down with a laptop, iPad or pen and paper and make a list of your specific needs using the headings below as a guide. It is also a good idea to make a detailed inventory of any existing fixtures and fittings, deciding which of them you would like to retain and which can be discarded. Next to each heading, note any problems and possible solutions.
Style and Decor
Do you like the look of your bathroom? Does it have character and atmosphere? What style of decor best suits your personality? If you are unwilling to undertake extensive alterations, consider how you could improve the room without incurring major expense – a new coat of paint, bright accessories and a few plants can make a world of difference. Look closely at the wall and floor finishes, the curtains, sanitaryware fixtures, fittings and accessories. Is the overall effect harmonious and does it relate logically to the functions of the room? A plush carpet and embossed wallpaper may create a wonderfully cosy effect, but they would be utterly impractical in a children's bathroom.
Space, Traffic and Layout
It is important to take the minimum space requirements for fixtures and fittings into account at the planning stage. If space is at a premium try and determine ways in which you could make better use of the available area.
If you are planning to buy new sanitaryware fixtures consider the layout of your bathroom carefully, because this is a good time to make changes. Ask yourself if the present layout convenient and, if not, how it could be improved. Is the basin easily accessible? Is there enough space next to the bath? Can two people comfortably use the bathroom at the same time? Try and pinpoint existing traffic patterns through the room. How could you alleviate an early-morning traffic jam? Is the toilet visible from the door, and if so, is there a way of screening it to ensure privacy? A built-in planter is ideal for this purpose.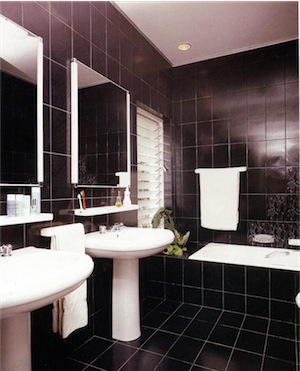 Fixtures
If your bathroom is the only one in the house, it must, by law (The National Building Regulations and Standards Act), contain a basin, a toilet, and a bath or shower. Are these fixtures adequate? If there is sufficient room, you may want to add other elements such as an extra basin and a bidet.
If space is limited, you may have to compromise: a shower-head on the wall above the bath can eliminate the need for a separate cubicle, while a toilet can be fitted with a special attachment which allows it to be used as a bidet. Is it possible to extend the bathroom structurally in order to provide extra space for new fixtures? Are the heights of the existing fixtures adequate? Is the basin large enough? Does the toilet flush efficiently? What is the present condition of the bath, and is it comfortable and easy to maintain?
Storage and Work Surfaces
Many old bathrooms have inadequate storage facilities. Make a list of the objects which you keep in the bathroom and plan the cabinets or shelves according to the kind and size of item they will store. Where will you store cosmetics, clean towels, soap, toilet rolls and bath accessories? Is there a medicine cabinet, and is it lockable and out of the reach of children? Is there a place for dirty laundry? If your bathroom has a work surface take a close look at the condition of the finishing material and determine whether it has stood up to constant use. Are there cracks, stains and difficult-to-clean dirt traps? Are there enough work surfaces for your needs?
Walls Floors and Ceilings
These large areas are subjected to a great deal of abuse from heat and steam and should be chosen with care. If you are changing the basic fittings of the room, you may well have to replace tiles or re-plaster and paint the walls. What materials would best suit the bathroom? A bathroom used by children, for example, should have a durable, easy-to clean, non-slip floor. Paint and wallpaper are inexpensive options but unless correctly chosen and applied, will not stand up to constant wear and tear.
The Bathroom Survey Lighting and Ventilation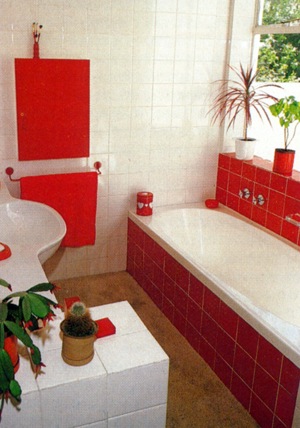 There are minimum legal requirements regarding lighting and ventilation. Steam and odours accumulate quickly in bathrooms: if yours is a stuffy bathroom it is probably because your lighting and ventilation are inadequate.
Will you need to install an extractor fan? Is the bathroom freezing in winter and sweltering in summer? Is there enough natural and artificial light, and what is the condition of the existing light fittings? A skylight can make all the difference to an internal windowless room. Do you need special task-lighting for shaving or reading?
Fittings and Accessories Are you happy with the existing fittings or is it time for a change? How efficient are the taps, and are they conveniently positioned? Are they dripping rusty and difficult for children to manoeuvre? Would mixers be more practical? Do the fittings and accessories – soap dish, bath mat, toilet roll holder, toothbrush rack, towel rail – match each other, and are they well made and easy to clean?
Decide which accessories you want to keep and which you will discard. Is there a dustbin in the bathroom? Do you need curtains or blinds, or is frosted glass a more sensible option? Are the mirrors large enough? Do the ornaments enhance the decor of the room or do they add up to a jumble of untidy objects? It is a good idea to decide at this stage which extra features you would like to include, and plan the room accordingly.
Plumbing and Wiring Plumbing is usually the most expensive aspect of bathroom remodelling so decide at the outset how much you are prepared to spend. Unless you have an unlimited budget, the location of the existing pipes and drainage will undoubtedly affect your decisions. A registered plumber will be able to advise you on costs. Wiring is also important, although plug points are illegal in bathrooms.
Heating the Water If you are remodelling your bathroom, there will already be a geyser in the house. Consider its capacity and condition. How much hot water do you need at peak hours? Does the existing geyser cope? Is there sufficient pressure for a shower? Where is the geyser located? If you are making changes, this may be a good time to consider installing a solar heating system.