Tips for Bathroom Storage Systems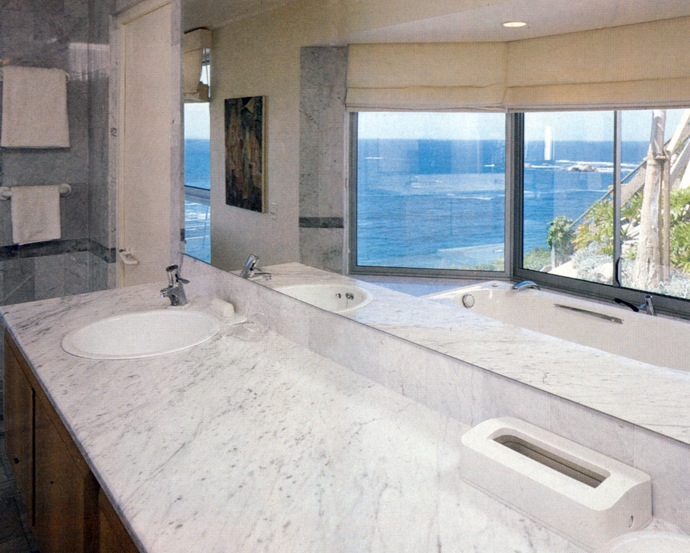 Bathroom storage and work surfaces are two aspects of bathroom planning that are often neglected. Consider your needs at the outset, and you will be rewarded with a bathroom that not only looks neat and streamlined but which also functions more efficiently.
A miniature medicine cabinet or narrow glass shelf is frequently the only storage facility provided in a bathroom, with the result that almost every available surface – including the top of the cistern and the edges of the bath and basin – is occupied by a motley collection of cosmetics, soaps, cleaning liquids, face-cloths and half-empty bottles. Packed neatly away into well-planned cabinets, drawers and shelves, these miscellaneous objects are less likely to get lost and will be far more accessible. You should not have to scrabble through a jumble of old shampoo bottles sponges and detergent boxes to be able to lay your hands on the packet of cotton wool for which you are searching.
Planning For Bathroom Storage
The easiest way to devise an efficient storage system is to plan the individual shelves, cabinets and drawers according to the items that will be stored in them. It is a good idea to draw up a list of the various objects you intend to store, considering the most convenient location for each one.
Bathrooms have very definite zones including spaces required for make-up, lotions, hairbrushes and razors that should be within arm's length of the basin and mirror; shampoo, flannels and towels near the bath or shower; detergents, medicines and soap powders out of sight in a locked cabinet.
When planning storage units, remember to take into consideration the shape of the individual items to be stored. Bottles, small boxes and accessories such as razors and toothbrushes do not require a great deal of space: stored one-deep in slimline cabinets or shelves, they are less likely to get lost or knocked over accidently.
If yours is a brand new bathroom, consider your storage needs at the planning stage A brick enclosure built around a basin, topped with a hard-wearing work surface and fitted with deep cupboards, can be far less expensive than a custom-made vanity unit. The narrow rim of a bath is frequently used as an all-purpose shelf for bottles and bathing accessories, with the result that it is impossible to climb into the tub without knocking at least some of them into the water. A broad shelf or ledge between the wall and the bath will happily accommodate these items.
Storage Systems
Vanity Units An integrated unit incorporating a basin, work surface and deep cupboards or drawers is one of the best ways of conquering bathroom clutter. Vanity units not only disguise unsightly under basin pipes, but also provide a wide work surface on either side of the basin, an area which frequently becomes congested.
Vanity units are usually manufactured with one or more doors or sliding panels. Some incorporate drawers as well. Many are modular, offering a great degree of flexibility. When choosing a vanity unit, check that the height and depth are convenient for the various people who will use the bathroom.
The most commonly used materials for vanity units are probably formica and melamine. These laminates are durable, waterproof and easy to clean, and are available in a wide range of textures, colours and patterns. Wooden vanity units have a warm, homely appeal, but should be well sealed to prevent staining or warping.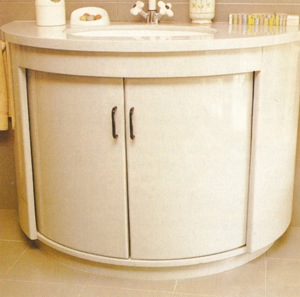 Cabinets Special bathroom cabinets are invariably an expensive option but are well worth considering if you envisage a clean-lined and highly organised bathroom. Wall-mounted units are usually fairly shallow so that they do not protrude outwards into the room, and many incorporate mirrored doors.
When choosing cupboards, remember to check the interiors of the units. Raw chipboard is unsuitable for a bathroom storage cabinet; ideally, the interiors should be finished in a material such as melamine, which is easy to wipe clean and damp- and stain-resistant. Also take into account the way that the doors open. In a very small bathroom, sliding panels are the ideal.
In recent years, there has been a trend towards adapting modular kitchen units for use in the bathroom. Rapid progress in the field of kitchen design has resulted in a whole new generation of sophisticated and versatile bathroom storage units. Many incorporate special features, such as hinged, swing-out dustbins epoxy coated wire drawers (designed for storing vegetables) and deep pot drawers, ideal for storing dirty laundry.
Shelving Systems Shelves are the least expensive and easiest to install of all storage systems, and are certainly the most versatile. When stacked with pot plants, glass jars, perfume bottles, bright towels and ornaments, an open shelving system will become a decorative feature in its own right. Glass shelves are a common feature of some bathrooms, but are usually limited to a narrow strip above the basin. If your heart is set on glass, take a bold approach and install thick, generous slabs of safety glass, clear or tinted, set into a recess or supported by a sturdy wooden or metal framework. Take care not to store heavy objects above glass shelves. Well- sealed timber formica and melamine are also ideal for bathroom shelving, but ensure that the strips are sturdy enough to support the weight of heavy objects.
Shelves need not be attached to a wall: a tall, narrow shelving unit can be used very successfully to divide the room into two sections, or to screen the toilet from the main part of the room.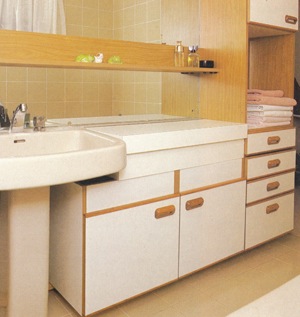 Other Storage Systems If your budget is limited, try and find innovative alternatives to conventional units and shelving systems. A bright metal trolley with glass shelves is ideal for small items; a simpler yet equally effective solution is to buy a small epoxy-coated vegetable rack.
Tiers of hanging baskets make good use of vertical space and, when suspended above the bath or basin provide an accessible place for flannels, loofahs, sponges and soaps. Straw and wicker baskets can be used to store anything from laundry to make-up.
Work Surfaces Although they are not subjected to quite the same degree of abuse as those in a kitchen, bathroom work surfaces are nevertheless called upon to withstand a significant amount of wear and tear.
The bathroom is a steamy area which has frequent fluctuations in temperature, and it is essential to choose a tough, waterproof easy-to-clean surface which will not warp, stain or scratch. Wood should be well-sanded and then sealed with several coats of a polyurethane sealant Formica, melamine, marble, granite and ceramic tiling are very well suited to bathroom work surfaces but ensure that any joints or seams are sealed to prevent seepage. Post-formed work surfaces, formerly confined to kitchens, are starting to make an appearance in contemporary bathrooms. These have rounded corners and no sharp edges, and are made by heating the laminate and moulding it onto a curved base. Because they are seamless, post formed edges are easy to clean and able to withstand great impact.
>
>