Understanding what's Underfoot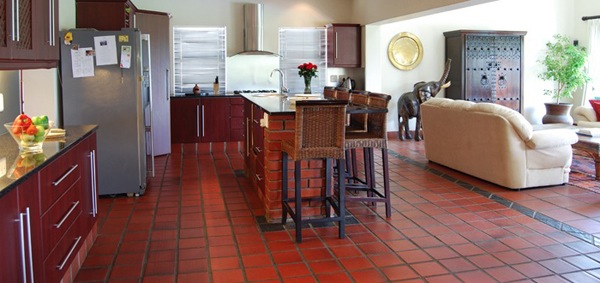 The type of floors specified in building plans will determine the materials required as well as which sub-contractors or specialists are going to be involved in the building project. There are many floor coverings and floor finishes for our homes and buildings, but in construction there are only two basic types of floor structure from which we can choose. The one is made using concrete and the other is made with timber.  Both may be used for ground-level floors and both may be used for upper storey floors. A third alternative, suitable only for ground floors, relies on using impervious floor units that are laid directly on compacted ground or fill.
Contractors work from building plans that show exactly how a building should be constructed. In most cases the finish will also be specified on the plans.
First we're going to look at the different construction methods for floors. Then we'll talk about the different options we have when it comes to finishing floor surfaces, and which can be used with the two most common construction methods. Some require specialists or sub-contractors to do the work while others don't.
Floor construction methods
There are many different ways to construct buildings, but normally the choice is between conventional bricks or blocks and some type of timber frame method. Both types of building may utilise either concrete or timber floors, or both. It all depends on the design. And sometimes these two materials are combined, for example with timber that is laid over concrete.
There is quite a lot of leeway in the building regulations regarding floors, provided the floors are safe and fire resistant. They must also be strong enough to safely support their own weight and the weight of whatever is placed on the floor, as well as the weight of the people who walk on the floor. Floors of laundries, kitchens, shower-rooms, bathrooms and any other rooms where there are toilets must all be water-resistant.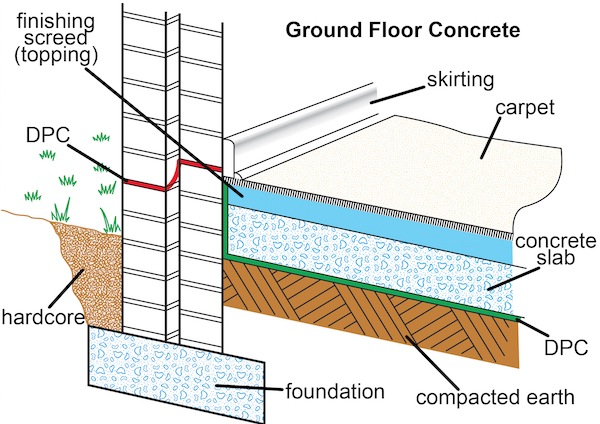 If a concrete slab is supported directly on the ground or on some type of fill, the regulations say that the floor must be constructed so that any moisture in the ground or fill can't penetrate the slab. This means that you will need to use damp-proofing, usually in the form of plastic sheeting manufactured specially for this purpose.
Floors laid on the ground
If a floor is to be laid directly on ground or fill the material used must be very well compacted. Any filling material you use needs to be applied in layers that aren't any thicker than 150 mm once each layer has been compacted.
The impervious units used for this type of floor have to be at least 40 mm thick in terms of the building regulations. They can be made from any approved material including brick, natural stone and slate. And normally the unit that is laid on the ground becomes the final floor surface.
Concrete floors
Concrete floors give us the most options in terms of floor finish because so many different materials can be laid on top of concrete. They can be constructed on the ground or to form upper storeys, above the ground. The specifications will differ depending on where the slab is to be constructed.
Ground floor concrete slabs
When working at ground floor level, once the foundations have been placed, a slab is constructed according to the specifications of the architect or engineer, or at least to the specifications given in SANS 10400 that explain how to comply with the building regulations. These specifications say that a concrete slab must have a compressive strength of not less than 10 MPa at 28 days, or be mixed in the proportions by volume of one part cement, four parts sand and five parts coarse aggregate (which is usually crushed stone). The thickness of the slab should be at least 75 mm.
Remember that the strength of concrete is measured in megapascals (MPa) which are the recognised units used to measure the strength of materials. Any contractor or supervisor who isn't sure about concrete specifications should consult a concrete technologist for advice.
The earth underneath the concrete slab will need to be well compacted before the damp proof course (DPC) is laid. Then the concrete can be placed. Ground slabs shouldn't rest on any part of the foundation walls. They are usually separated from the brickwork so that they can move without cracking.
Also, a slab shouldn't extend over the internal foundations that support internal walls. It is much better to lay the slab between the foundation wall of each room. In all instances floor slabs must be allowed to cure thoroughly before the floor is screeded and floor coverings laid.
It is also possible to construct suspended concrete floors by using a precast product, for example the popular beam and block system.
Whichever construction method is used, it is usual to leave concrete surfaces quite rough to provide a key for the cement-sand screed.
Upper floor concrete slabs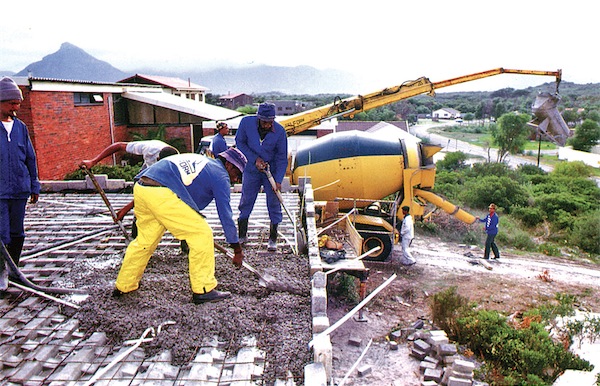 When it comes to upper floor concrete slabs, the choice will be between a precast or prestressed product made by a specialist company, or a floor that is designed by an engineer.
Ready made systems include hollow core slabs and the beam and block systems that incorporate hollow blocks that improve insulation.
For floors in buildings of cellular construction up to four storeys high, hollow core slabs with finished soffits are usually the best choice. They are quick to erect and don't have to be propped. If a long, uninterrupted span is needed then it is best to use one of the prestressed systems:
• beam and block,
• panel and topping, or
• hollow core.
The hollow core system is especially suitable for car parks, hospitals and supermarkets.
Another system that is often used in commercial or industrial situations involves a permanent galvanized metal or pre-painted aluminium framework that forms a supporting base for the concrete.
These ready-made floor systems are made by specialist companies and are designed by engineers, and they are all topped with fresh concrete on site. You will either work according to the manufacturer's installation instructions or according to instructions specified by the consulting engineer on the project.
When an engineer designs a suspended concrete floor that is to be cast on site, he or she will determine the thickness of the slab and the strength of the concrete as well as whatever steel reinforcing is required.
Once concrete has been placed it should be kept moist so that it cures properly. The curing period lasts for five to seven days, and ideally foundation brickwork should only be laid after this period of time.
Wooden floors
Wooden floors may be laid on concrete or they may  be suspended above the ground. Traditionally wooden floors were suspended, but today there are many timber products that are manufactured so that they can be laid onto a smooth level screeded concrete surface or even simply glued to the dry screed.
Since a large number of different floor finishes are designed for use on screeded floors, we will look at all of these, including timber products, in the next section. Here we're going to talk about traditional suspended timber floors.
The timber floor structure will be shown in detail on the plans and drawings. These must be drawn according to SANS 10082 which specifies how timber buildings should be built.
Supporting beams or floor joists are fixed in place first, usually on wooden wall plates that sit on the brickwork. It is important to provide ventilation under floorboards. The building regulations state that the underside of the boards should be at least 550 mm above the surface of the ground below, and there should be at least 450 mm between the joists and the ground.
Upper-floor suspended timber floors are built in a similar way although the floor joists may be designed so that they form part of the roof truss, in an attic for example.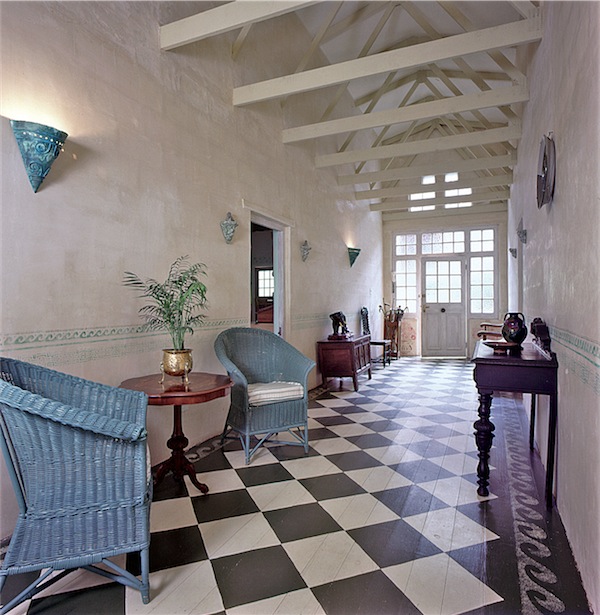 The most important thing to remember is that every joist must be properly aligned and absolutely level. If they aren't level the final surface of the timber floor won't be level.
Either tongue-and-groove strip flooring or compressed boards may be installed over the joists. These are secured with special oval wire floor nails.. The length of the nails should be   2,5 times longer than the thickness of the boards. Once the nails are in place they will need to be driven below the surface of the wood with a punch to prevent any kind of injury.
The decision of whether to use board or timber will normally depend on whether the surface is to be tiled or carpeted, or left as bare wood. Since strip flooring is more expensive than concrete, it is not usual to cover the timber. Instead it can be sanded and sealed to produce a beautiful gleaming finish that is warm underfoot. A less usual option would be to paint the wood and then to seal over the paint.
Screeded floors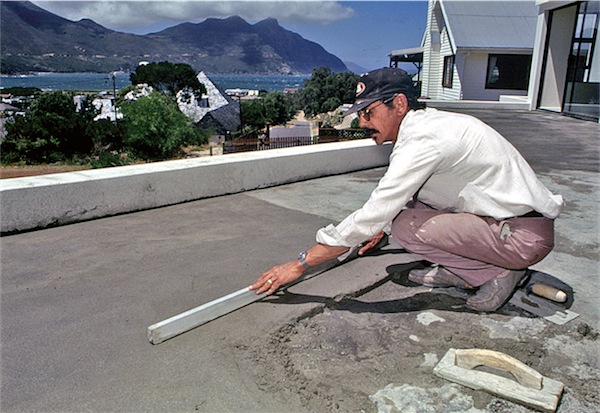 Concrete floors are usually screeded before the final floor finish is applied or fixed. Otherwise some other cement-based material is applied to the concrete to give it a nice smooth surface. The only time we don't consider screeding a floor is if it is for commercial or industrial use and the floor will have heavy loads placed on it, or if trucks are going to drive over the surface. If this happens the screed is likely to crack and crumble even if a strong cement mix is used.
Often builders talk about a topping for concrete. A screed is a type of topping, and we make the screed from a mixture of sand, cement and water in exactly the same way that we make mortar for bricklaying.
The process of screeding is very similar to plastering except that we have to work on a flat, horizontal surface instead of a vertical surface like a wall.
Types of screed
There are two types of screed that we can use, either a bonded screed that we apply to hardened concrete or a monolithic screed that we lay just after we have cast the concrete slab, before it cures and hardens. When we talk about the screed being monolithic we mean that it is large and solid and becomes part of the concrete, even though the screed is applied after the concrete has been placed and compacted.
The most usual way to screed floors is to lay the screed later so that it  bonds to the hardened concrete, so this is the method we're going to look at.
Mixing screeds
The most usual mix for a floor screed is a 1:4 (cement:sand) mix. We use a common cement, for example a portland cement and good quality building sand. The rule about water is that it must be good enough to drink. Mix it just as you would mix mortar for bricklaying or plastering. First mix the dry materials together and then add just enough water to make the mixture pliable. Only mix as much as you can use in a couple of hours because otherwise it will dry out and you will have to discard it. Remember that you must never add water to any cement-based mix if it starts to dry out. This will only weaken the mix.
Laying screeds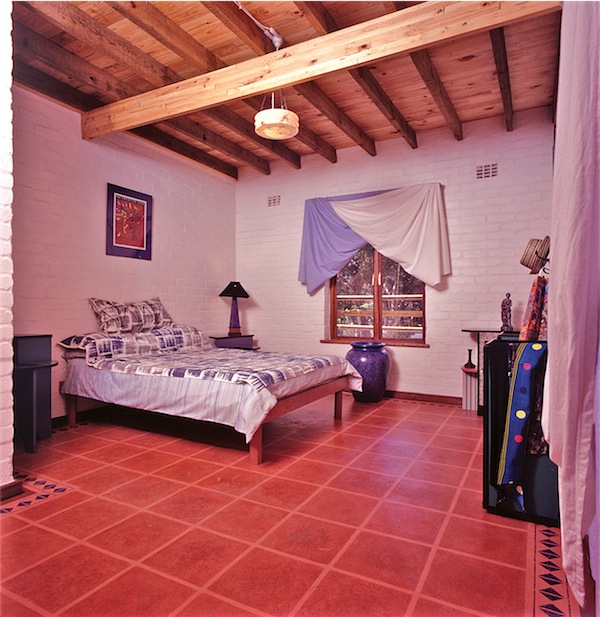 Before you, or the people working for you, can lay the screed on the concrete you need to be sure that the concrete surface is absolutely clean. Dust and dirt on the surface of the concrete can stop the screed from bonding to the concrete and so when it has set and dried the screed will start to chip away.
Before you start screeding, it is a good idea to test how absorbent the slab is by spraying water onto the surface to see if the water gets sucked into the concrete quickly.
If the concrete absorbs the water it means the concrete is very dry. If you screed a very dry concrete surface, the water from the screed mix will get sucked into the concrete and the screed mix will not be as strong as it should be. So if the concrete is dry, spray water on it before you start screeding and then let it dry out.  When the surface looks dry we call it surface-dry or touch-dry and you can start screeding.
If the dry concrete didn't suck up the water, you can work on the dry concrete.
To make sure that the screed will bond to the slab we .mix what we call a slush or slurry of equal quantities of common cement and clean building sand together with water. It is important to use the slurry within 30 minutes of mixing it so that it doesn't dry out.
Spread the slurry over the concrete surface and scrub it into the surface with a hard broom or brush. The idea is to leave a very thin coating of the slurry on the concrete. Work on fairly small areas at a time so that the mixture doesn't dry too quickly and make sure there aren't any pools of the mixture left on the surface. Once you have scrubbed the slurry into your concrete surface and it has dried, you can start screeding. Mix the mortar and spread it over the surface of the concrete so that it is 25 mm to 30 mm thick. Work in areas that are no bigger than 3 m x 3 m and use a straightedged length of timber or aluminium to scrape any extra mortar off the surface. Then use a wooden float to smooth the surface. If you want an even smoother surface you can also use a steel trowel.
Floor finishes
The most popular floor finishes for houses, apart from wood, are carpets and tiles. But when it comes to factories and other commercial and industrial buildings, the choice often extends to a range of 21st century products that create smooth seamless surfaces that are both goodlooking and hardwearing. Screeds may also be painted.
Wooden flooring
We have talked about suspended wooden floors and mentioned the fact that timber and special timber products can be used directly on the floor screed.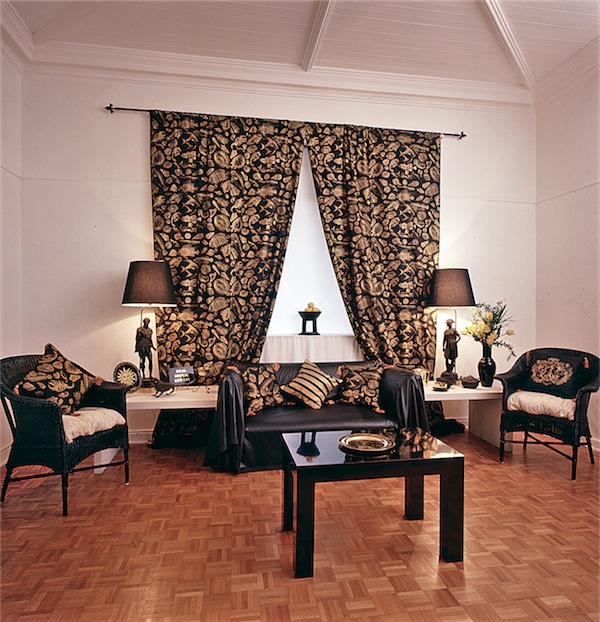 Ordinary tongue-and-groove floorboards may be laid onto a smooth, level screeded surface once the screed has cured and dried. But there are also quite a lot of other products that are now available. Examples include:
• solid floorboard products that lock into one another or are fixed with a special glue,
• modular strips of solid wood that clip together,
• veneered wood products that are either glued or installed using a specialised floating system,
• wood laminate flooring that is cheaper than solid wood and fixed with glue or laid loose on a screed, and
• parquet flooring that is glued to the screed.
Most of these products are available from specialist flooring outlets that provide an installation service.
Bricks and tiles
There is a vast choice of tiles for flooring, ranging from ordinary ceramic tiles to luxurious tiles made from different types of marble. Tiles may also be made from baked clay or from materials like natural slate which is a type of stone.
Brick is a less usual choice than tiles, but brick paving may be used inside buildings.
Both bricks and tiles may be laid by skilled workers, alternatively contractors may employ artisans specialising in paving and/or tiling as sub-contractors, to do the work for them.
Bricks
Bricks are often laid in sand when they are laid as paving, but indoors they are usually laid on a screed. They can be laid abutting one another or by leaving a gap between the bricks which is then filled with mortar.
To give the brick surface a sheen use a mixture of boiled linseed oil (not raw linseed oil) and mineral turpentine to coat the bricks and then buff the surface with a floor polisher.
Ceramic tiles
The most common choice for kitchens and bathrooms, ceramic tiles are also laid on a screed, but they are fixed in place using a tile adhesive. Once they have been fixed in place they will need to be grouted so that all the gaps between the tiles are filled.
Ceramic tiles are manufactured with both matt and glazed surfaces. The shinier they are the more slippery they will be.
Marble and granite tiles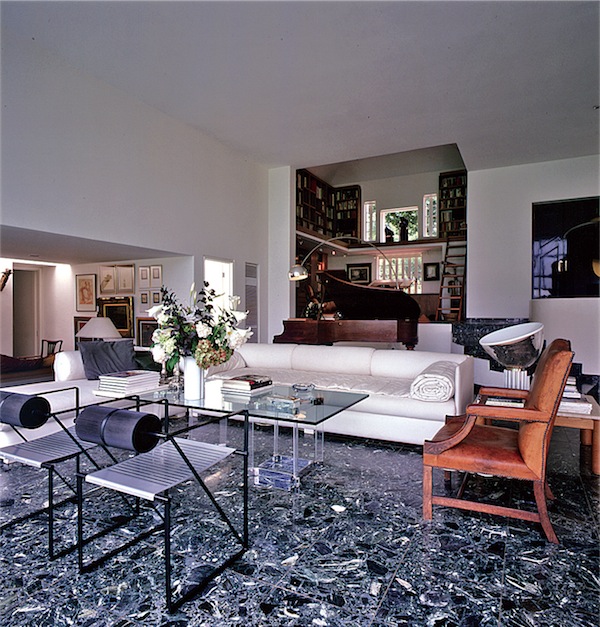 Considerably more expensive than ordinary ceramic tiles, marble and granite tiles are made from natural stone that is cut and polished. They should be laid on a screed according to the manufacturer's instructions.
Both marble and granite make a cool, hardwearing floor material that gives an interior a very classy feel. Because the material is polished, it does become slippery when it gets wet.
Larger marble and granite slabs are also available, but these are more commonly utilised as counter tops in kitchens or in bathrooms.
Quarry tiles
Made from baked clay, quarry tiles are used inside buildings and on patios. They range from small, regular tiles that are all exactly the same size, to large handmade tiles that may not all  be exactly the same size.
Quarry tiles may be laid in a slush on the screed or they may be fixed using a cement-based tile adhesive.
Slate
A quarried material, slate is most commonly cut into tiles although irregular shapes are available for crazy paving and it is sometimes cut into slabs.
Soft floor coverings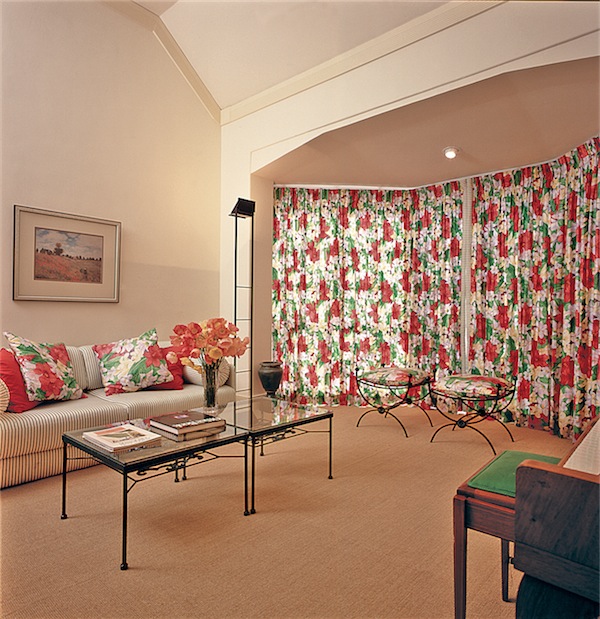 The range of soft floor coverings we can use includes carpets, matting and various types of sheeting, including tiles that are made from the same material as the sheeting. All must be laid over a screeded floor.
Carpeting
There is a huge selection of carpeting products available for use in homes and other buildings, some of which are more hardwearing than others. Materials include natural wool, acrylic fibre, tough, hardwearing polyester, and coir and sisal, both of which are forms of natural matting.
Wall-to-wall carpeting is commonly laid on screeded floors, and usually on an underfelt. This makes the carpet softer underfoot and protects it from the excessive wear and tear it would undergo if it was laid directly on the hard, abrasive screed.
Usually carpets are laid by special installers who also supply the carpets, rather than the contractor.
Sheeting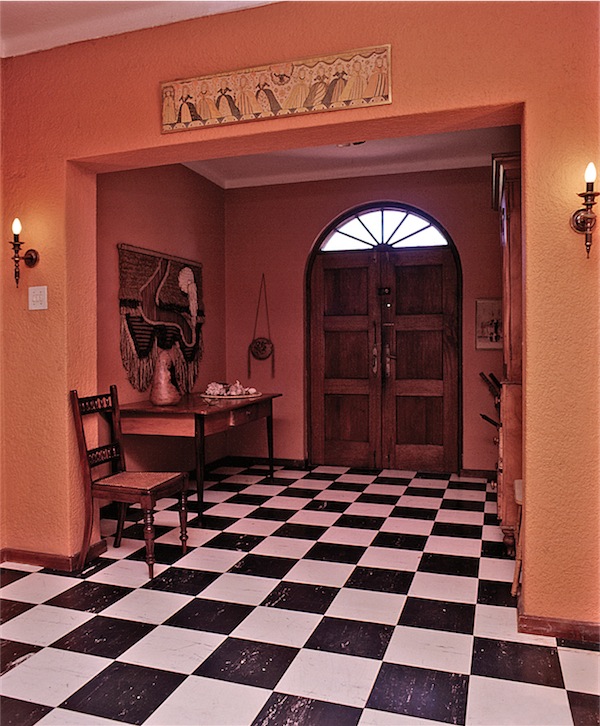 Rubber, vinyl and linoleum sheeting has come a long way in the last 20 years. The range has grown and various sheeting products now offer added extras including durability, slip resistance and static control.
Generally supplied in large rolls, rubber, vinyl (which is strong type of plastic) and linoleum (made mainly from natural raw materials) are all glued to a screed.
But now there are also more sophisticated products including woodplank vinyl laminated floor coverings that are supplied in plank form or in panels that you slot together without any glue. Laminate planks and tiles are also available, with or without grooved edges. And for people who want a slate or marble look that is not as expensive as the real thing and a lot softer and warmer, there are now luxury slate and marble vinyl tiles that are made with high quality photographic film so that they look like the real thing.
Other flooring products
Various other flooring products are available, some of which produce hard-wearing seamless surfaces. Some are floated into wet concrete while others are applied to the screed. Examples include:
• a granolithic material that is floated into wet concrete that strengthens and colours concrete floors,
• a coloured cement-based self-levelling floor cover that is rolled or wood-floated on concrete screeds to produce a 2-3 mm layer that won't crack,
• specialist epoxy polyurethane flooring systems including polyurethane floor screeds and self-levelling toppings for floors, and
• a seamless stone flooring system that uses quartz aggregates and clear epoxy resins.