Clearing The Site – Getting Ready To Build
Preparation is a vital part of any job in the construction industry, because if site preparation is not correctly done it can jeopardise the building project. Site clearing operations must also be safe so that there is no chance of anybody being injured.
Before you can start construction of any building the site needs to be properly prepared. What gets done depends on the site itself and how the building has been designed. The ground may need to be levelled, rocks might have to be removed, trees might have to be cut down, and in some instances old buildings may have to be demolished.
Preparation of building sites and general site operations are strictly controlled by the National Building Regulations, so it is important for supervisors and contractors to follow the right procedures.
General safety
Site operations can be dangerous and so the first thing that contractors have to do is make sure that the site will be as safe as possible.
The local authority may want fences or barricades erected to prevent the public from entering the site. These will have to stay in place until building work is finished.
People working on the site also have to make sure they stay within the boundaries of the site and don't do anything that encroaches on streets or public places next to the site.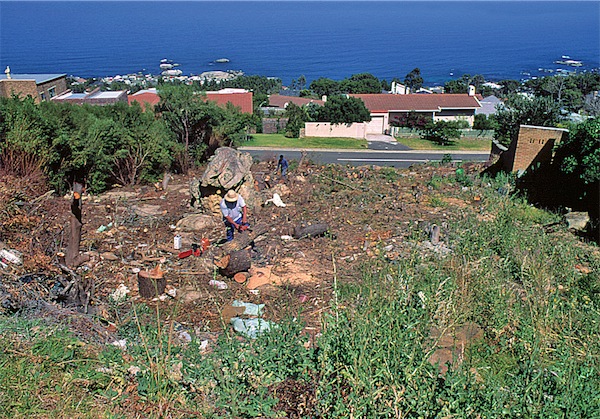 Site preparation
Before foundations can be laid, the area where the building is going to be constructed has to be properly cleared of all vegetable matter, tree stumps, timber and any other debris or refuse that might have accumulated on the site.
If the ground where the building is going to be erected is waterlogged, or if water will drain naturally towards the building once it is complete, drainage has to be provided during the preparation stage. The contractor will have to make sure that water is directed to a stormwater drain or whatever drainage point is shown on the plans.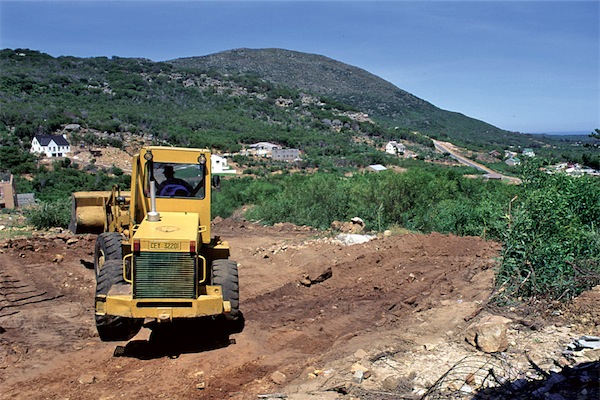 Clearing and cleaning
Clearing and cleaning is a very important part of the site preparation process.
If bushes and trees have been cut down these will need to be removed. Stumps and roots of trees can cause problems so these should be dug out of the ground and the holes filled with soil and compacted well so that the ground is hard.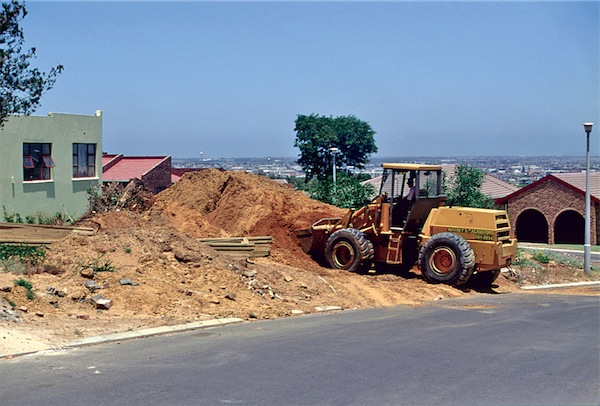 If waste material including rubbish, rubble and other debris is found on building sites either before or during building operations, the local authority (either the local council or municipality) can force the owner of the property to remove it. If the owner doesn't do anything about removing rubbish and rubble then the local authority may remove the material and charge the owner the costs. There is a good chance that if the contractor has left the mess that the owner will hold the contractor liable.
Clearing is normally done with a bulldozer, a front-end loader or a tractor-loader-backactor (TLB). If there is a lot of material to remove it is often necessary to load the rubbish and rubble into a tipper truck to remove it. If you are removing large rocks from the site a truck will definitely be needed.
Demolition work
Before any building or solid structure is demolished, the owner of the property has to get permission from the local authority. The reason for this is to make sure that the safety and health of the general public isn't harmed during demolition work and to minimise inconvenience to people in the area. Another reason is to make sure that other buildings and installations aren't affected during the demolition.
There are various ways that buildings can be demolished including knocking a small structure down piece-by-piece with sledgehammers or by a specialist company imploding a building by blowing it up with dynamite so that it collapses inwards. If the local authority says that the method will create or cause a danger to people or other buildings or properties, different methods may have to be used.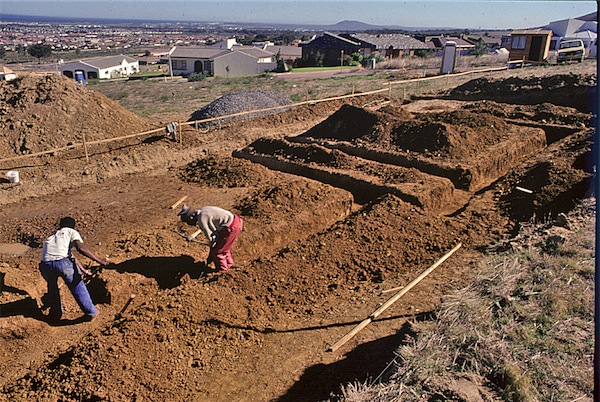 Ground conditions
Once the site has been cleared it is usually necessary to remove top soil before the foundations can be dug. If the soil is of a good quality it should be put on one side and then used later when the site is landscaped. Poor quality soil (but not clay) may be used to backfill foundation trenches.
The type of soil on any building site should be something that is considered by the professionals in the planning stages, before the plans are drawn. But sometimes problems are discovered during on-site works, once the site has been cleared. Even rocks may only be discovered below the ground during the clearing phase.
Problem soils
Unstable soil conditions can be a big problem, and if contractors find, or suspect, unstable soil or an unstable slope they need to report this to the local authority. A professional engineer may then need to be called in to assess the ground conditions.
Ground conditions don't only affect the clearing programme, they also affect foundations. So if unstable soil conditions are found after plans have been drawn, and conventional foundations have been specified in the plans, the foundation plans may have to be redrawn.
There are a few different types of soil that aren't suitable for conventional foundations:
clay soils that retain water and don't drain well,
collapsing soils that contain voids (or gaps) and which can therefore cause structures to crack if the soil collapses,
soft soil that sinks as it settles under buildings, and
sandy soil that is fine and gritty and doesn't drain well.
Rocks
Rock is not always a problem on a site because it can sometimes be incorporated in the foundations or used for landscaping. But if it has to be removed it can be problematic and costly.
Jackhammers are often used to break up rocks that need to be cleared. There are also certain chemicals, called demolition powders, that will make rocks expand and then crack. The last resort is to use explosives, but a specialist with a special permit will need to do the job.